Fence Rules & Standards You Need to Follow – 5 Texas HOAs, POAs, & City Councils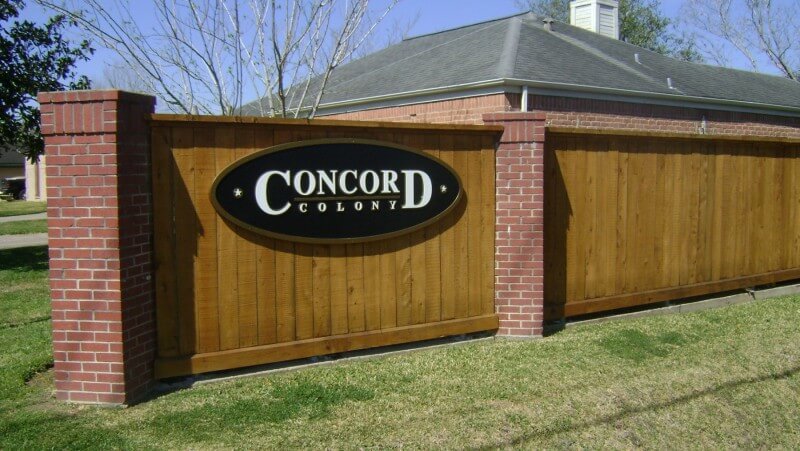 Fence Rules City Councils
One of the most important things to consider before replacing your old fence are any developmental standards and fence regulations in your area. The last thing any homeowner wants is to pay for a new fence and then be told it needs to be rebuilt to meet a specific fence requirement. Most fence companies do their best to advise homeowners on common privacy fence regulations, but it is the homeowner's responsibility to communicate with their neighborhood's HOA, POA, or city council to learn about the restrictions and fence rules in their area.
Fencing standards and bylaws are typically decided upon by the developer of a given area. For instance, most master planned communities like The Woodlands have their own residential development standards that get updated every few years. On top of developmental standards, there are also Texas residential fence laws that must be followed or you may be penalized and have to rebuild your fence.
While some areas of Houston- like parts of Harris County- rely on a Municipal Utility District (MUD) to enforce fence standards, other areas may just refer to the city council. In either case, whether your neighborhood has an HOA, POA, or falls under a MUD or city council, it's important to understand the common standards and fencing bylaws that are enforced.
Aesthetic Consistency
This one is pretty simple; some developments want the neighborhood to have a consistent look and feel so they come up with fence height regulations and code requirements that each homeowner should adhere to. Some development guidelines even have rules on the color of stain and paint allowed on fences. If you drive through some neighborhoods, it's usually obvious which ones have a rule that enforce aesthetic consistency and which ones don't. If you see that every fence in your area is the same, more than likely they stick to HOA fence guidelines that you have to follow when installing a new fence.
Structural Integrity
Some homeowners association and fences laws may not be as strict when it comes to aesthetic consistency but will require that fences be constructed a certain way and limit the type of fence materials they allow. For instance, The Woodlands HOA fence rules will require that fences be built out of either wood, metal, stone, or masonry and they do not allow fences to be built out of chainlink, metal sheets, plastic, or rope and bamboo. The reason behind these decisions is to guarantee a certain level of structural integrity so that fences aren't falling over, which ties into the next common standard.
Homeowner & Neighborhood Safety
Safety is a universal development consideration, especially when it comes to fences. If you are building a fence around a pool, there are a number of HOA Texas laws that you should follow, and you must have an inspector make sure your new fence abides by these rules. See your local regulations.
If you plan on building a fence near or on a utility easement, most neighborhood HOA fence rules and POAs require utility lines that run underground to be marked. Texas Fence will call the utility company to schedule this before we build your fence. The Texas HOA laws may also require us to provide proper clearance for any service persons or vehicles that need emergency access to the easement, which we will go over with you when we plan your new fence project.
Another way that HOA sets fence rules to enforce neighborhood safety is by requiring the rail side of the fence to face the yard, especially for homes that back up to a major road or freeway. This requirement makes it more difficult for people to trespass on someone's property by climbing over a fence using the fence rails. Some areas even have privacy fence regulations when it comes to fencing for pets that stipulate what you can and cannot use for pet fencing purposes.
Location & Property Lines
An almost universal fence rule is that fences must be built on the homeowner's property. To prevent homeowners from accidentally building a fence that stretches onto public property or into a neighboring yard, some areas may require a surveyor to be called out to locate the ground pins that mark the property line. The Texas residential fence laws require that fences that back up to major roads to be built five feet back from the property line or sidewalk.
Some neighborhoods HOA fence rules prevent fences from extending past the front corners of a home. We also see a lot of areas that enforce good-neighbor fences, which is a fence that alternates rails between your side of the fence and your neighbor's side of the fence if a fence if between two properties.
Nature Preservation
Many cities and HOA Houston fence rules on fences enforce preservation of trees, lakes, and landscape of a certain area. For instance, The Woodlands fencing bylaws do not allow you to build a fence that attaches to any part of a tree because they have very strict tree preservation codes. If a tree is in the way of your fence, you are required to build it in such a way that it weaves around the tree. Furthermore, The Woodlands and other areas require homeowners to plant bushes along the street-facing side of a fence if it backs up to a sidewalk or a major road.
Whether you live in an area that is governed by an HOA, POA, MUD or city council, it's always best practice to check in and learn all the fence rules and regulations when it comes to fences in your area before hiring a fence company.
Have you reviewed your local fencing bylaws and standards?
Call us at (281) 807-7900 or fill out our contact form, and we can provide you with a free quote!