Custom Residential Iron Fencing Variations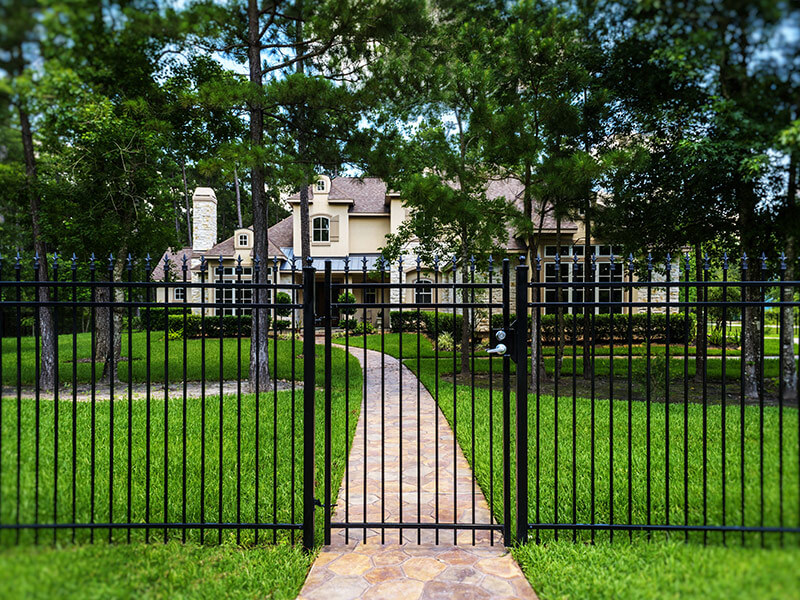 There Are Numerous Options Available When Choosing Iron and Aluminum Fencing
A fence made of ornamental iron and aluminum makes a beautiful frame that secures your property. One advantage of ornamental iron is that there are many iron gates and fences design options to choose from. Texas Fence can offer prefabricated designs or just about any custom design for a residential aluminum privacy fence. Our representatives are happy to help you work through these options to find the iron or aluminum fence that suits your needs.
Find the Best Finish for Your Iron Fence
Houston homeowners need to be aware of how an iron fence should be finished, especially in a hot, humid climate close to the Gulf Coast. There are three main types of residential iron fence material finishes to consider: primed and painted; powder-coated; and pre-galvanized and powder-coated. Texas Fence recommends powder-coating, which has become a very popular choice over the last fifteen years. A powder-coat finish prevents your iron fence from corroding due to chemicals and weather. Powder coats also adds UV stability to your iron fence allowing it to withstand fading and discoloration from long-term exposure to sunlight.
So how exactly does powder coating work? Finely ground particles, pigment, and resin are electrostatically charged and sprayed on through a dry finishing process. The iron is electrically grounded so that the charge particles adhere to it. The iron panel or post is then placed in a curing oven where the particles are melted and fused into a smooth coating. To maximize protection against corrosion, customers can opt for powder-coated pre-galvanized steel for added protection against rust.
The least expensive finish is raw steel that has been primed and painted, although this type of finish cannot withstand Houston's climate. In hot and humid climates, the fence will begin to fade, corrode, and rust much faster than one that has a powder-coated finish.
Aluminum Can Be a Suitable Substitute for Iron Fencing
Aluminum has the appearance of iron and is essentially corrosion resistant and completely weather-proof. The major drawback with an aluminum privacy fence is its durability. If your fence will be placed in a high traffic area, aluminum may not be the most suitable option for you. A Texas Fence representative will be happy to discuss the differences in the available fence materials and the best fence options for your particular purpose.