Commercial Chain Link Fence Variations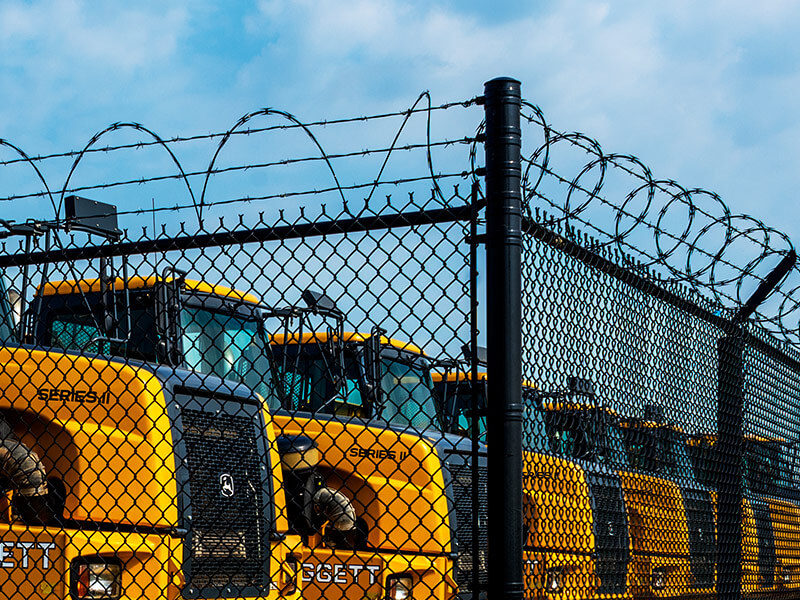 Chain Link Fence Houston
Chain link fences are the most widely installed security fences for commercial applications. The height of a chain link fence varies from 4′ to 12′, and taller for special applications, but the most common chain link fence height is 6′ chain link with 1′ of barbed wire on top making the overall height 7′. Every chain link fence that Texas Fence constructs is made of 4 components: corner posts, line posts, the chain link fabric, and a top rail.
The Pipe Components of a Chain Link Fence
Corner posts- the posts at the end or outside corners of a chain link fence- typically have an outside diameter of 2 7/8″. Texas Fence sets these posts in concrete 36″ deep in the ground to ensure your chain link fence is stable and secure. The second main component of chain link fences are line posts. The standard distance between line posts is 10 feet, and each line post is set in concrete 24" deep into the ground. Line posts used in heavy commercial applications have an outside diameter of 2 3/8″. For lighter applications, Texas Fence uses line posts with an outside diameter of 1 ⅞". The top rail of a chain link fence is made from a 1 5/8″ pipe that runs continuous on top of the fence. The top rail adds stability to the chain link fabric secured to it with wire ties. The three pipe components- the corner posts, line posts, and top rail- are schedule 40 as a standard, but Texas Fence can value engineer your fence by using a lesser schedule pipe without affecting the integrity of your fence. Texas Fence exclusively uses galvanized pipes to provide our customers with a quality fence that will last for a long time.
Chain Link Fabric
The fourth major component of a chain link fence is the chain link fabric. Commercial chain link fabric has 2″ diamonds that are woven out of 9 gauge wire. Texas Fence specializes in galvanized chain link fabric, but we do provide the option of installing vinyl coated chain link fabric. Vinyl coated chain link fabric comes in black and green, which some customers find more aesthetically pleasing than the traditional grey color of galvanized chain link fabric. To match the color, Texas Fence uses a coated top rail and posts when installing a vinyl coated chain link fence for our customers.
Additional security measures can be added to ensure proper protection is in place
For added security, one foot of barbed wire can be installed above the chain link fabric. This is done by stretching three strands of 4 point, 12 ½ gauge barbed wire. To really maximize security, razor ribbon can be spiraled around the three strands of barbed wire throughout the run of the fence, although we do not recommend using razor ribbon on chain link fences with a height of less than 8′. If you would like to add privacy to your chain link security fence, Texas Fence can install PVC slats. These slats are installed by weaving them through the diamonds in the fabric from top to bottom. The slats are locked into place with a strip of PVC that runs horizontal throughout the fence line. When fencing your property, gates are usually needed for access. Chain link gates either swing or slide open. A Texas Fence representative will gladly assist you in determining which application best suits your particular situation.
Access equipment for entry and exit gates is also available
Texas Fence installs access equipment to your entry and exit driveway gates. Some of these options include, but are not limited to, gate operators, keypads, card readers, and tele-entry systems. These accessories add security to your property, particularly during non business hours. Texas Fence can spec your fence for you based on your needs and create a proposal for you based on prints and engineered specifications.
Take advantage of Texas Fence's Free Online Estimate to get a quick quote.
Or contact Texas Fence today to learn more about our commercial chain link fencing.