Custom Driveway Gate Variations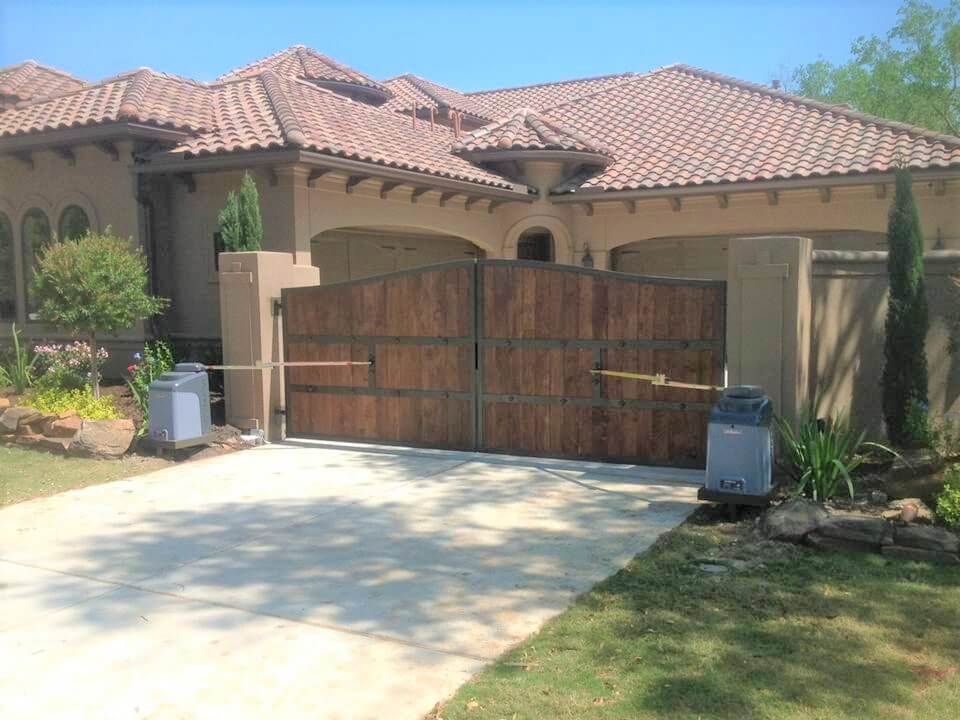 Custom Driveway Gates
A beautiful custom made driveway gate can be a focal point or point to your home or office while serving as a barrier to your property for those that are not welcome. Designing a driveway gate is about understanding the landscape design of the property. Texas Fence, a Houston-based fence company, takes both of these into consideration with every custom driveway gate project.
At Texas Fence, we focus on both aesthetics and function. Before starting a project we communicate with our customers to understand the purpose of the gate and how it will fit into the architecture, landscape, and design of the property. We also keep in mind that the gate needs to be a secure entry point that blends into the overall architecture of the property, whether it be for your home or office. Building any effective driveway gate begins with listening to what is important to our customers. We provide you with custom driveway gates designs and work with our design team to create the perfect custom driveway gate solution that addresses your needs.
In many cases, security is our first consideration in a driveway gate project. Just like the front door to your home, you want it to be inviting but secure. Obviously, no gate is 100% secure, but Texas Fence has worked hard to develop designs that provide each customer with driveway gates that deter trespassers in the Houston area.
Custom Wood Driveway Gates
At Texas Fence, we offer several different options for driveway gates: wooden gates, wrought iron gates, chain-link gates, aluminum gates, and custom gates. We partner with you to ensure you select a driveway gate that conforms to the architecture of your home and fence. Custom wood gates can be stunning on your Houston home with a wide variety of wood materials to choose from that can stand up to the weather while looking great!
Custom Iron Driveway Gates
Custom iron driveways on the other hand, can be styling and beautiful while adding a more modern look to your home. Iron driveway gates feature a little added security but also take some expertise to install.
With every driveway gate project, Texas Fence works with our customers to understand their security needs and design ideals for the project. Once we've determined your security needs, we assess added features that enhance ease-of-use such as remote access, slide opening, swing opening and even double gates.
Wooden Driveway Gates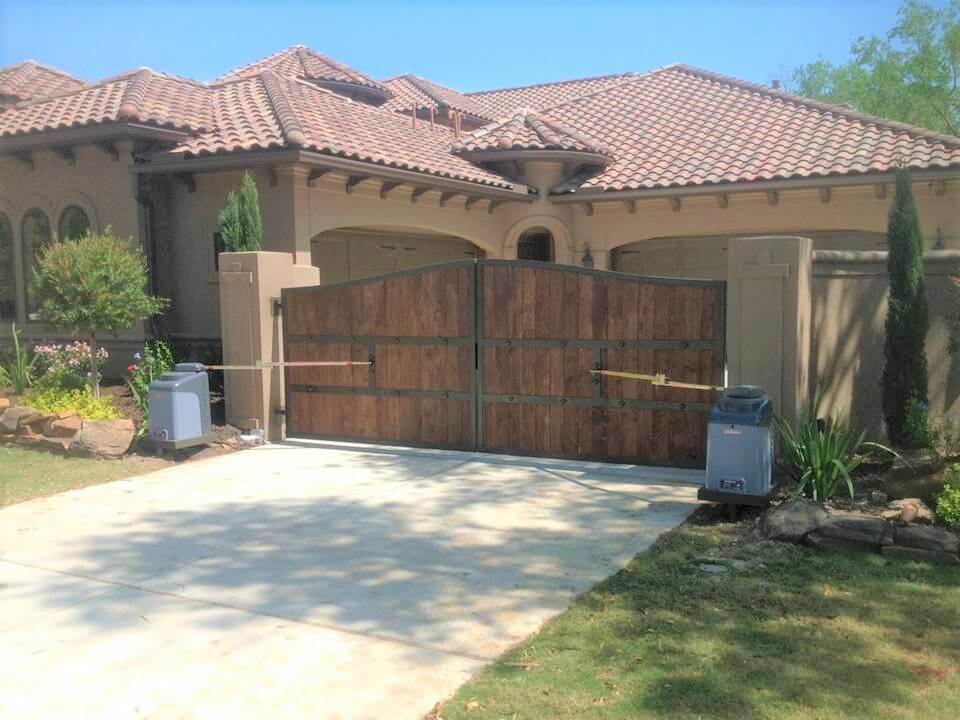 Our range of wooden driveway gates come customized to meet your aesthetic requirements. Whatever shape or size you want Texas Fence got you covered. Our team of experts will present you a number of custom wood driveway gates designs so you can choose the most appealing.
Metal Driveway Gates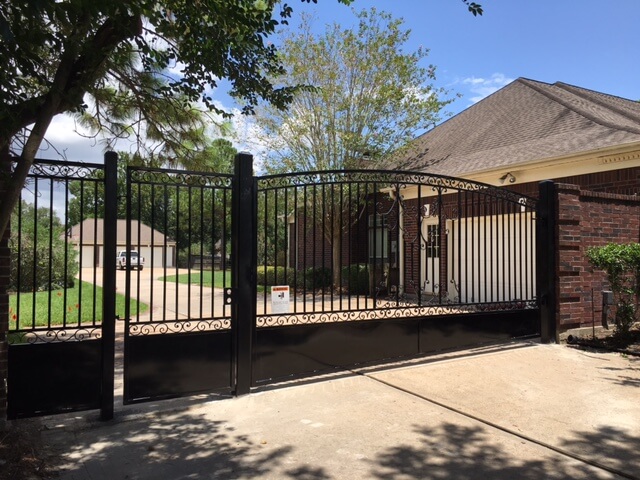 Not only does Texas Fence deal with wooden driveway gates but also custom metal driveway gates. They are more durable and offer added security to wooden gates. You can get them in aluminum, iron, or wrought iron design. The choice: your preference. Give us a call for more details.
Automatic Driveway Gates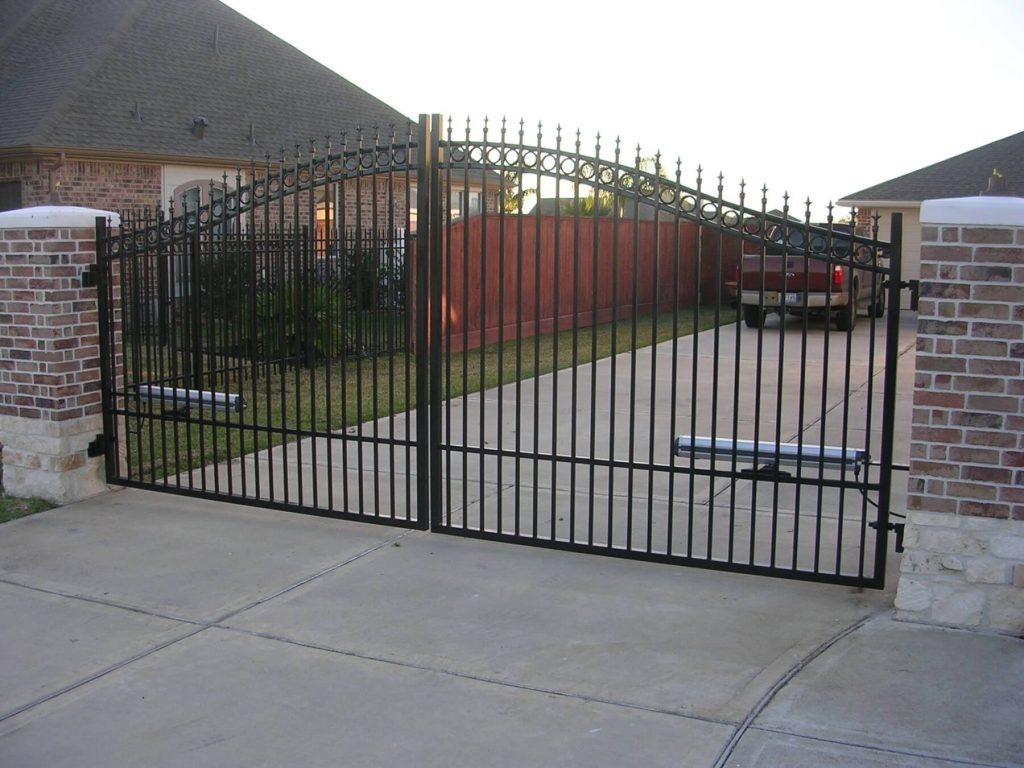 In need of an automatic driveway gate? Well, look no further since Texas Fence can make on for you. It comes with you preferred material: metal or wood. The benefit of installing a custom automatic driveway gate is that you don't have to manually open and close your driveway gate.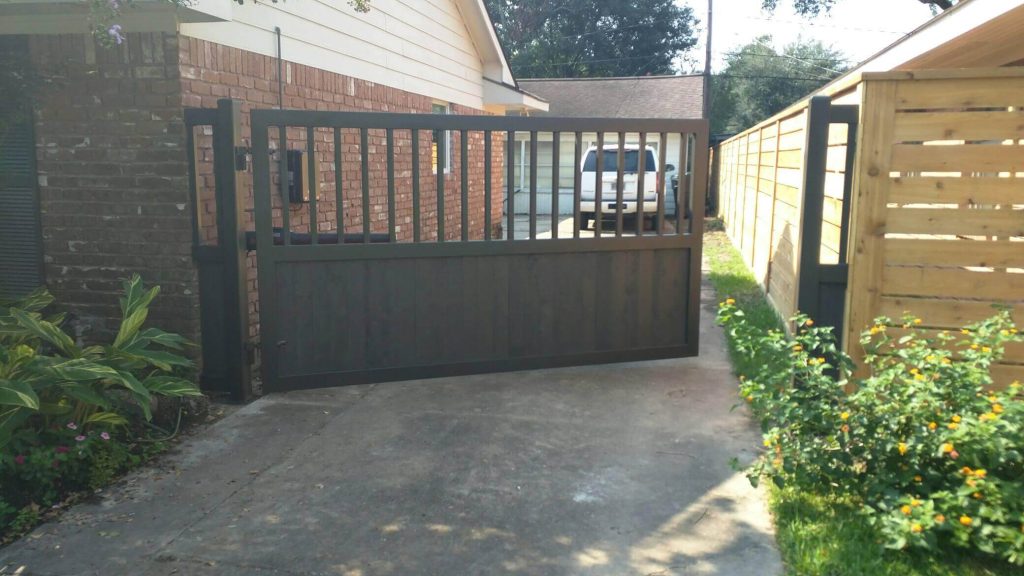 How Much Do Custom Driveway Gates Cost?
Well, like other driveway gates, the design and material of your gate will dictate the final price tag. That is, a wrought iron custom driveway gate will cost more than an iron gate. If you can't come to a conclusive purchasing conclusion, our team of experts can help you.
Let Texas Fence Help You Make the Best Choice
Instead of spending countless hours trying to decide what kind of gate to install, Texas Fence leverages its 15 years of experience in the Houston area to narrow your options down to the design concepts that align with your needs. During the consultation process, we help you determine how your gate should look and function. As we develop the design, we focus on the customer's security needs and the overall architecture of your home or property.
Contact Texas Fence today to speak to an expert about driveway gate construction and installation.
Our company is ready to respond to all of your driveway gate needs.