Fences – like cars and homes- are a big ticket item. Although your new fence may not be nearly as expensive as your home or your car, it is a large enough investment that you want to do plenty of research, shop around, and find something you're going to be happy with for years to come.
Think about when you bought your home. Did you sign a contract for the first home you looked at? Did you look at other homes? Chances are you looked at several place and asked plenty of questions. How old is this home? Are there any leaks? You probably took the time to carefully look over the walls, the doors, the fixture, and the appliances.
Now, when you buy a fence you aren't afforded the luxury of seeing your fence before you buy it. Instead, you're shopping for a fence company that will build a high-quality fence that matches or exceeds your standards. You should read reviews, look at their previous work and decide whether or not you trust the company to deliver what you want.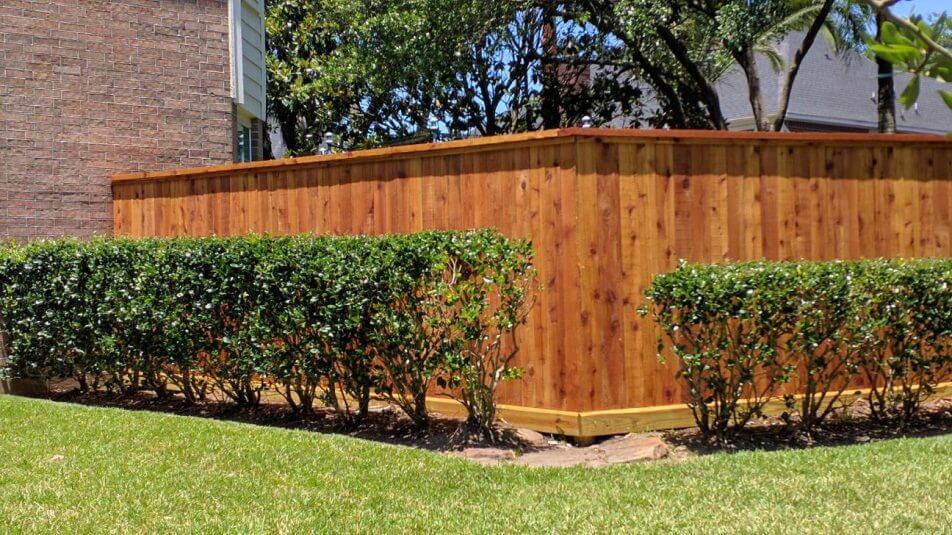 In essence, there are three steps to hiring a fence company:
---
HOW TO DETERMINE IF A FENCE COMPANY IS RELIABLE
Hiring the first fence company you find is an easy mistake to make, especially when your fence has fallen over and you need a new one fast. Unfortunately, there are fly-by-night contractors who prey on homeowners who don't do their research. Sometimes, you may think you're getting a good deal to realize that the person you hired has no liability-insurance, no location, and is impossible to reach when your fence breaks, or they may fail to show up at all.
The best way to protect yourself from being scammed by a fence contractor is to shop around, ask plenty of questions, and look for red flags while you research and collect bids.
Red Flag #1 – They are not insured.
Every reputable fence company should have some kind of liability insurance policy. Your home will become a construction site when they install your fence, so the chances of an accident increases. Even trustworthy fence contractors can accidentally hit a shallow pipe or wire (more on that in the next red flag). To protect themselves and their customers, fence companies must be insured to pay for any damages and fix any issues that may occur.
We recommend that you ask all the fence contractors you gather bids from about their liability insurance policy. Texas Fence has a copy of our policy that we are required to show our commercial clients. If a homeowner asks to see this policy, we will email them a copy.
Red Flag # 2 – They Do Not Call 811 to Identify Underground Utility Lines
The State of Texas has several damage prevention laws, including the Underground Facility Damage Prevention and Safety Act, that require any construction team planning to dig further than 16 inches into the ground to call 811 so that a utility provider can mark their cables before starting a project. This law applies to every fence company in Texas because the holes dug for fence posts should be at least 16 inches deep. And a good fence contractor should let you know upfront that they plan to call 811.
After a utility company marks electrical, telephone, and other utility lines with either flags or spray paint, your fence contractor will clearly be able to tell where their team should and should not dig. If the fence installer hit a line that was marked, the fence company is liable and must pay to fix it, which is why they need to be insured. If the installer hit a line that was not marked by the utility company, than the utility company is liable and must pay for the repair.
Many reliable fence contractors, including Texas Fence, offer underground utility protection. Underground utility protection covers any electrical, water, or gas lines under your yard that wouldn't be marked by your utility provider. Say, for instance, you added a sprinkler system or a gas line that connects to a barbeque pit. Your utility provider probably won't mark those lines because they only cover their lines of service, so some fence contractors will offer to cover additional underground utilities as well or ask that you mark or remove any additional lines before they begin digging.
One thing you can do is ask the fence contractors competing for your bid if they plan on calling 811 and how they plan to install their fence around your sprinkler system (if you have one). A reliable contractor will tell you that they plan on calling 811 the week before they install your fence. They should also work with you to ensure that any additional underground lines will be accounted for, whether they offer underground utility protection or tell you to remove or mark them before they install your new fence.
If a fence contractor begins to install your fence and you notice that there are no marking in your yard, it could mean one of two things. Either there are no lines running through your yard (which is typically the case in older neighborhoods with above ground power lines), or it means that they didn't call 811. In either case, if you notice that there are no markings, you should ask your contractor if they called 811.
Red Flag # 3 – Bad Ratings or No Ratings at All
You can usually tell how reliable a fence company is simply by typing their name into an online search engine. Unless they're a brand new company, you should be able to find some reviews and a company website. If a contractor claims to be a new company, it can get a little tricky. Yes, they could legitimately be a new company, but one tactic that fly-by-night fence contractors use is changing their name so that potential customers cannot find bad reviews. Either way, there are three places you can look for customer reviews and ratings if you want to determine how reliable a fence company has been in the past.
The first site to always check is the Better Business Bureau. Here, you should have the ability to see how long that company has been in business, read customer reviews, and find their overall score based on their history of customer satisfaction, transparency, and experience. Angi, which is now free for customers to join, is another place place where you can find reviews for most established fence companies.
Now, you may want to go with a newer company that doesn't have many reviews, but you should be careful and at least ask for a few local references before going with that contractor.
Red Flag # 4 – They Don't Have an Office
Reliable fence companies will always have some sort of office, warehouse, or storefront. Managing a fence company and installing fences for homeowners is a major business operation that requires a good sized team and readily available materials. If a contractor says they don't have a location, it's a good indicator that they work out of their truck and source their materials from a hardware store.
We understand that everyone has to start somewhere, but it's difficult for contractors that work out of their truck to prove accountability. Without a location, it's a lot easier for them to take someone's money, disappear, and change the name of their company.
When researching fence companies and gathering bids, you should always look for an address on their business card, website, or marketing materials. If you can't find an address, ask them, "Where is your office?" If they give you an address and you still suspect they may not have an actual office, you can search it on your smartphone's map and usually tell whether it's a home, P.O Box, or an actual office building
Red Flag # 5 – They Ask For a 100% Deposit
It's standard practice for a fence company to ask for a deposit, but it shouldn't be more than 50%. Typically, a fence company with an office, warehouse, and materials on site will charge somewhere between 20%-30% upfront. If the contractor you're working with charges more than 50%, they may not have the capital they need to be a reliable fence company. But you should never pay a fence contractor the full price up front.
---
ASK FOR AN ESTIMATE
After you've researched several fence companies, you should select the two or three companies you find to be the most reliable and ask them for an estimate. When you ask for an estimate, they should schedule an appointment to meet in person at your house or the site where you plan to have your fence installed. Typically, fence companies will send a team member who will ask you questions to determine the type of fence you want and any additional features that may be necessary.
Whoever they send should also walk your yard and take measurements to give you a written estimate that is as accurate as possible. When they hand you your quote, you should also ask them to specify how long it will take to complete the job and ask them what their backlog looks like. Make sure they provide you with a quote that includes all measurements in linear feet and and details what materials will be used, where the posts will be, where the gate(s) will go, and indicates any features or add-ons that you want them to include in your fence.
Much like fence companies that ask for a full deposit, you should also be wary of fence companies that charge for an estimate. Estimates don't guarantee that the fence company will get the bid, so there is a chance that the fence contractor could lose that time, but that burden shouldn't be on the shoulders of the customer who is doing their research and shopping around It is standard for fence companies to provide free estimates, so that's what you should expect.
---
EXECUTE A CONTRACT
After you've narrowed your search down to a fence company you feel like you can trust, you should execute a contract. The contract should specify the work to be done, total cost, payment schedule, start date, and the estimated date of completion. It should also specify that they are responsible for cleanup and the removal of your old fence.
The bottom line when it comes to signing a contract with a fence company- or any contractor for that matter- is that you understand what you're signing. Does it specify the process? Is the product and service you're paying for clearly detailed in the contract? Did they provide a spec sheet? Did they set expectations?
Once you sign the contract, you have something in hand that holds your fence contractor accountable and provides you a high level of assurance that you will soon have a fence that you're happy with.
Buying a new fence takes some time and requires quite a bit of research on your end. But once you find a company that delivers what they promise and provides you with service you can count on from start to finish, you'll be happy that you took the time to research and ask questions.
To learn more about purchasing a fence like what to do if you have a pool, popular add-ons, or how to address common HOA by-laws, visit The Learning Post on our main website.
And if you're ready to schedule a free estimate with Texas Fence, you can call us at
(281) 807-7900 or schedule a free estimate online.