Commercial Wood Fence Variations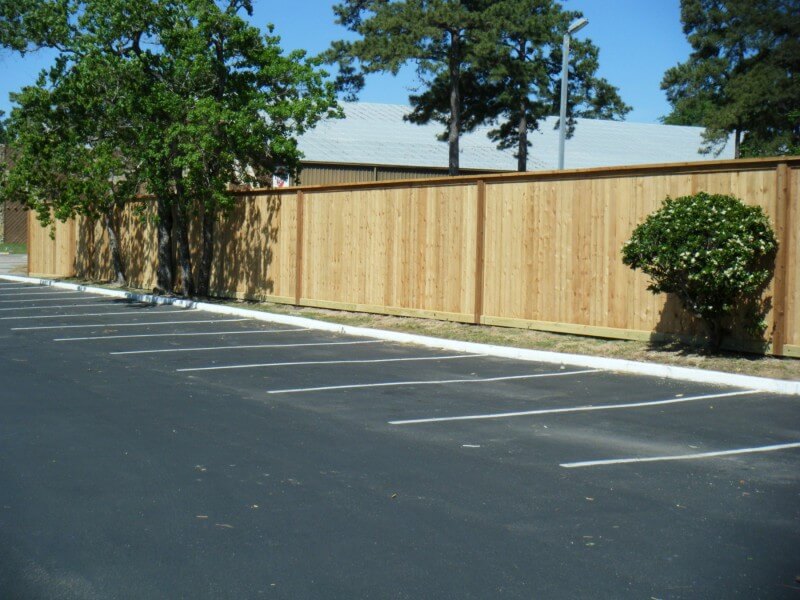 Materials Make A Difference
At Texas Fence we use the best material on the market when building our modern commercial wood fences. All of our commercial wood fencing material is graded #2 or better. This essentially means the boards are at least 50% clear. We do offer clear grade pickets and #1 grade upon request.
Wood Fence Information
Construction Determines Longevity for Every Fence
The second major factor with a wood fence is the way it is constructed. Texas Fence uses 4×4 pressure treated pine posts on our typical wood fence. Every post is set in concrete. The depth at which we set the posts is determined by the height of the fence. These depths range from 24″ to 48″ and sometimes deeper. When putting up the framework we use three 2×4 pressure treated pine horizontal rails. The third rail adds stability to the commercial wooden fence panels and is necessary for the rot board.
A Variety of Rot Boards Available Means There Is a Decision to Be Made
The typical rot board used is 2×6 pressure treated pine. There are other rot boards available, such as, 2×12. Texas Fence uses a rot board on all of our commercial cedar fences. The rot board acts as a buffer between the picket and the ground. This is important because the cedar picket is the most expensive component of the fence. We use Western Red Cedar pickets. By placing the rot board under the picket, the pickets are protected from the ground moisture. Along with your new fence, a gate is usually needed.
Custom-Built Gates Are a Texas Fence Specialty
We custom build all of our commercial wooden fences with gate in the field. Texas Fence uses a galvanized metal frame. A metal frame is recommended to prevent the gate from sagging over time. In the Houston area, a wood fence can be expected to last around 15 years. Texas Fence applies commercial wooden fence stain colors to prolong the life of your fence. Staining your fence helps protect the wood against ultraviolet rays, moisture, and graying of the pickets. We recommend re-staining your fence every couple of years. Re-staining your fence is much less expensive than replacing the fence. The information above is based off of our typical commercial wooden fence. There are many options available when considering having a wood fence built. One of our sales representatives will gladly go over your particular needs and desires to best match you with the desired design.