Decorative Iron Fences and Gates
Decorative Iron Fences and Gates: Transform Your Home's Exterior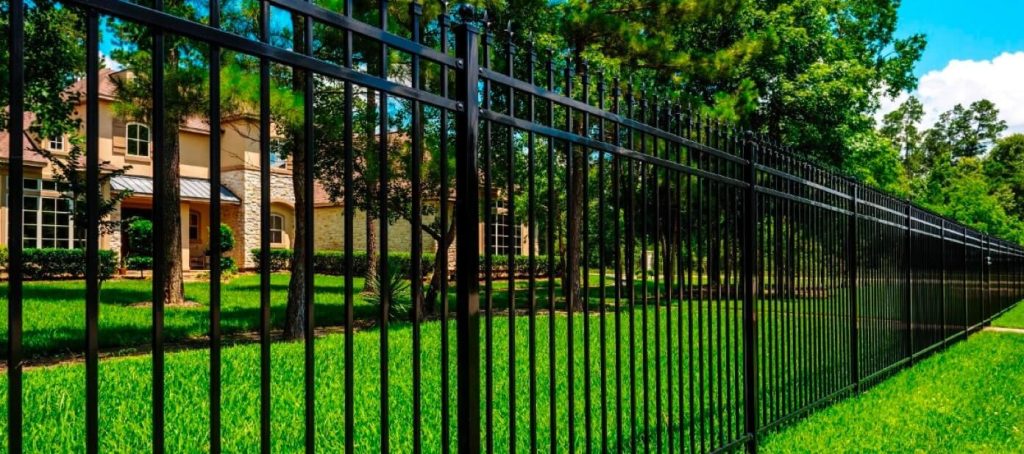 As wrought iron decorations become increasingly popular to add a touch of class to the modern home, no front entrance would be complete without decorative Iron fences and gates. Many might think that such grand pieces are only reserved for wealthy mansions, but fortunately, decorative Iron fences and gates are more accessible than ever these days. From simple scrolls to elaborate designs and swooping arches, there's something available for everyone, regardless of taste and budget.

Not only do Iron fences and gates add to the aesthetic of your property, they also offer practical benefits. For one, they are extremely durable, making them highly resilient to wear and tear, as well as to the elements such as rain and wind. Such strength and sturdiness also means they are an excellent security measure, with the increased safety of your family, pets, and possessions as a number one priority.

Decorative Iron fences and gates can truly transform the exterior of your home. Take your pick from a variety of shapes, sizes, and designs that are bound to enhance the look of any garden, patio, or driveway.
Choosing the Right Decorative Iron Fence or Gate for Your Home
Decorative iron fences and gates are a great way to transform the exterior of your home. When selecting your fence or gate, there are a few factors that should be taken into consideration. It's important to choose a piece that matches the overall style of your home, but also looks elegant and luxurious in itself. This can be a tricky task, as there are many beautiful decorative iron fences and gates available.

Aesthetics are a key factor when choosing the right decorative iron fence or gate for your home. Consider the architecture and style of your façade and match the color, design, and size of your chosen fence or gate to it. If you have quaint country-style house with cedar finishes, consider an aesthetic complementary wrought iron piece. If you have a modern up-to-date abode with brick siding, opt for more modern styles of aluminum frames with thin ornate details to connote class and elegance. Ultimately, it's entirely up to personal preference – as long as you take it into account when making your decision!

The purpose of the fence or gate is another factor to consider. If security is your main concern, high pedestrian access gates are great for keeping out unwanted visitors while still providing easy access for family. However, if privacy is what you seek, many brands offer privacy gates which provide excellent coverage from nosy neighbors yet maintain a sense of luxuriousness necessary for curb appeal.

Quality should also not be overlooked when purchasing an outdoor decorative iron piece. Assess all aspects from frame thickness and height to material grade and strength to ensure you receive a product that meets all safety requirements while exhibiting longevity against corrosion and other elements. To ensure you receive quality goods, always opt for trusted brands with decades of experience in manufacturing decorative iron pieces that promote beauty as well as durability.

When selecting an iron fence or gate, it is important to consider factors such as aesthetics (to match the architecture and style of your home), purpose (security and/or privacy), quality (strength and durability of materials) and personal preference. Having knowledge of all these factors will help you select a decorative iron piece that provides practicality, functionality, beauty and shows off your personal taste.
Factors to Consider When Purchasing An Iron Fence or Gate
When it comes to purchasing an iron fence or gate for your home, there are a variety of factors that should be carefully considered. The quality of construction and design must be considered, as any sturdy structure should be able to withstand inclement weather and other environmental threats. If a fence or gate is quickly corroding and decaying, this likely means it was not constructed with the highest-grade materials and does not match your needs.

In terms of installing a new fence or gate in your home's exterior, it is critical to think about whether the space already has existing landscaping that can be accommodated by the new addition. If a fence is too tall, wide, or bulky, then it may conflict with the existing elements in the area. Additionally, it is important to think about the look you want to achieve. Iron fences can come in many different styles, such as an ornate Victorian picket option or a more modern wrought-iron design; carefully consider which style is most appropriate for your home's unique aesthetic.

These considerations are particularly pertinent if you are attempting to install the item yourself. It can be beneficial to receive expertise from a professional prior to making any purchases, as they will be able to guide you towards finding one that fits both your criteria and budget. But with careful consideration of your options and needs, you can make an informed decision that will integrate seamlessly into your outdoor space – dramatically transforming its appearance in the process!

As there are so many styles of decorative iron fences and gates to choose from, selecting the right one for your home could take some time.
Types of Decorative Iron Fences and Gates
When it comes to choosing the perfect fence to transform your home's exterior, there are a variety of decorative iron fences and gates available. From traditional picket fencing to imposing double-gated entranceways, the options are almost limitless. Picket fencing is a particularly popular option as it is a classic style that can add flair and charm to any garden or yard while still offering security and privacy without compromising on style. Double-gated entrances offer an even more impressive look with their grandeur and are ideal for larger homes that need an extra level of security.

For those looking for something more modern, vertical bars and straight slat designs create sleek and contemporary looks that fit right in with the rest of today's trends. While these designs offer less privacy, they can still provide the same sense of security while ensuring a stunning entranceway or tall fence that won't take away from the beauty of your landscaping.

On the one hand, choosing an intricate wrought iron pattern may be costlier but will add sophistication to your property. On the other hand, simpler styles such as horizontal or vertical bars can be installed quickly and be coordinated to fit in with existing elements on the property such as bricks or stone walls. Regardless of the type chosen, decorative iron offers an unbeatable combination of timeless design appeal and lasting durability that is sure to bring countless years of protection and style to any home.

Whichever type you choose for your home's exterior transformation project, it is important to make sure it is made from sturdily built materials for optimal longevity and durability. In addition to choosing the right type of decorative iron fence or gate, selecting materials which are fireproof, rustproof, and water-resistant will ensure increased longevity no matter what environment they are exposed to.
Sturdiness and Durability of Different Iron Materials
It goes without saying that when considering an iron fence or gate for your home's exterior, sturdiness and durability need to be top of mind. How can you be sure the materials used in your decorative fence or gate will withstand the elements and offer lasting quality? Various types of iron used in fencing and gates can offer varying levels of sturdiness, so it is important to understand.

The most used iron in fencing and gates is wrought iron. This form of iron has been around since the Middle Ages, which is proof of its superior durability. Wrought iron typically outlasts other building materials by at least one hundred years, making it a smart investment for homeowners looking for reliable security and a timeless outdoor aesthetic.

Some homeowners may balk at the higher price tag associated with classic wrought iron fences versus those made from modern composite materials that imitate wrought iron's appearance. However, low-cost composite alternatives do not usually exhibit the same level of sturdiness as an authentic wrought iron fence does.

Modern steel fences are a cost-effective choice for added security benefits but require extra maintenance to ensure they stay rust-free over time, whereas classic wrought iron fences rarely need any upkeep. Ultimately, when investing in a new fence or gate for your home's exterior, it pays to pay attention to the type of materials used and examine how they stand up to wear and tear over time.

As you weigh your options on sturdiness and durability when selecting decorative iron fences and gates, there is also another major factor to consider: design..
Design Options for Decorative Iron Fences and Gates
When it comes to decorative iron fences and gates, there are a variety of design options available that can drastically improve any home's curb appeal. These materials boast ornate shapes, intricate details, and custom colors that give them timeless appeal. Plus, most come with a lifetime warranty for durability and strength—meaning you'll have a great-looking fence for many years. Keep in mind that the installation cost can be higher in comparison to other types of fencing due to the various configurations and custom-made styles.

But despite the additional costs associated with these aesthetically appealing metalworks, their timeless elegance and stunning visuals more than justify their higher price tag. There is something special about ornate gate designs with decorative posts, finials, and filigree which creates an inviting home entrance that truly stands out from the crowd. For example, one of the trendiest current choices is the classic double picket pointed spear with a flat top. It has two upright spears that extend above the top rail, creating an exquisite finial point at each end while presenting an open view of your landscaping or garden beds. It also provides excellent durability and stability while being easy to install and maintain.

No matter what style you decide upon, your choice of decorative iron fences and gates is sure to elevate your home's aesthetic charm while providing long-term protection and security. Plus, thanks to today's modern processes and techniques, metals can be formed into nearly any shape or configuration to perfectly match the environment around them. With all these choices available, selecting just one option for your Iron Fence or Gate can be a difficult decision! Fortunately, there are plenty of options to suit any taste – from sleek contemporary designs to more vintage colonial motifs – so you're sure to find something that you love.

These elegant structures transform outdoor spaces into inviting gathering places – making them perfect for outdoor entertaining or simply adding a touch of style to your home's outdoors. From its attractive appearance to its durable construction, decorative iron fencing and gates offer a unique way to enhance your exterior home design for decades to come. With such a wide variety of options available on the market, it's no wonder why these metalworks remain one of the most popular choices for enhancing homes across the country today! No matter which designs you choose, incorporating decorative iron fencing or gates is sure make a dramatic impact on your exterior space pleasing both guests and occupants alike.


Variety of Styles and Designs Available
When it comes to decorative iron fences and gates, variety is the spice of life. Homeowners can select from a wide range of designs and styles, allowing them to find the perfect fit for their home's exterior. One popular option is wrought iron fences, which have been sought after since ancient times for their beauty as well as their strength. The classic ornamental gate is another traditional choice that adds charm to any home. But homeowners are no longer limited to these two options: modern metal fabrication processes provide more options than ever before with custom-made designs crafted in aluminum, stainless steel, brass, and more.

The choices don't stop at the material – varying patterns and textures can be achieved by playing with shapes or adding embellishments such as scrolls or pickets. From a Victorian-inspired intricately patterned gate to a sleek, contemporary fence that complements modern architecture, there is an ironwork design for every home. The possibilities are truly endless!

Whether homeowners prefer traditional or cutting-edge style, they are sure to find the perfect fit when considering decorative iron fencing and gates. Although ultimately this choice will come down to personal preference, having access to such a wide selection only adds value to any project.
Security Benefits of Decorative Iron Fences and Gates
Security is a major concern for many homeowners and installing an iron fence or gate can be a great way to up the security of your property. Decorative iron fences and gates offer practical features such as strength, durability, limited visibility, and ability to deter trespassers. Plainly putting it, these structures provide a physical boundary that can protect your property from unwanted guests.

When properly installed and maintained, iron fences and gates are difficult to overcome without alerting the occupants of the home. This makes them a powerful deterrent to potential thieves as they increase the risk of being seen by neighbors or passersby. Additionally, it has been suggested that an obstruction between your yard and the street also serves to limit access to children and animals which can help put parents' minds at ease.

Of course, there are also those who argue that decorative iron fences and gates do not actually improve security as intruders can still find other ways around or even use the structures themselves as climbing aides. While this argument is valid in some cases, with the right design and placement of an iron fence or gate, with strong poles that have sharp points on top, it becomes much harder for criminals to access your property without significant time and effort wasted—which is usually enough to deter most criminals from attempting entry at all.

In any case, taking careful consideration of both sides of this debate when selecting a decorative iron fence or gate for your home should give you peace-of-mind knowing that you are making an investment which will safeguard yourself, family, and possessions while adding a unique touch of beauty to your property's exterior.  
Adding Value to Your Property with Decorative Iron Fence or Gate
Decorative iron fences and gates are a great way to add value to your property. Not only do these features enhance the security of your home, but they also bring a touch of elegance, beauty, and sophistication to your exterior. The fence or gate can easily become a focal point for the area and turn plain, dull exteriors into something quite special.

Adding a decorative iron fence or gate can offer several beneficial impacts on both visual and financial terms. If a home has an attractive gate, it is more likely to draw attention from potential buyers than one with a generic wooden door. Curb appeal is essential for any house and having an eye-catching entrance provides an immediate positive impression about the property and enhances its overall value. Furthermore, Iron fences are becoming increasingly popular among high end properties as they embody luxury and quality.

A durable fence or gate also adds to the security features that help protect private homes while simultaneously transforming the aesthetic appearance of the exterior. This in turn may lead to increased public perception of safety, which may attract additional homeowners to the surrounding community. A gate can also be used as part of an automated entry system which further increases convenience as well as aesthetic appeal. Homeowners may find that after installation, their beautiful new decorative iron fence or gate helps increase the value of their home.

On the other hand, some caution should be taken when considering installing iron fencing around one's property due to potential upkeep expenses that could come along with it in comparison to less costly options such as wood or vinyl fencing. If not cared for properly and regularly there is an increased risk of rusting which would need to be addressed in order for it to truly add value over time.

Ultimately, adding a decorative iron fence or gate can greatly improve the exterior design of any home while also adding an extra safety feature for both existing inhabitants and potential buyers if ever looking at resale value down the line.
---
.
Commonly Asked Questions
What safety features should be included with decorative iron fences and gates?
When choosing a decorative iron fence or gate for the exterior of your home, safety should be one of the main considerations. Installing secure and durable fencing is vital to protecting your home from intruders, stray animals, and natural elements.

Some safety features which should be included in decorative iron fences and gates include rust-resistant metal coatings; a reinforced frame along with secure locking mechanisms; and visibility options such as wire inserts to ensure good sightlines while still providing security. Additionally, if you are installing an electric fence or gate, always opt for one with up-to-date technology that includes safeguards for small children or pets. Finally, make sure you always use professional installation companies who have experience with these types of construction projects to ensure everything is properly installed to the highest safety standards.
What kind of maintenance is required for decorative iron fences and gates?
Decorative iron fences and gates require regular maintenance to keep them looking their best. It is important to inspect the fence or gate regularly, ensuring that all bolts, screws, and connections are secure and tight. Additionally, it is beneficial to oil or wax rusty, vulnerable areas periodically. This helps to prevent rust build-up and stop potential damage from occurring. If the fence is in direct sunlight, use a sealant to keep the metal protected from extreme temperatures. For weather-related damage, such as following winter storms, repairs should be completed as soon as possible to prevent further deterioration. Lastly, coatings and paint can also help to further protect the metal by providing a layer of defense against wear-and-tear or corrosion.
What are the best materials for constructing decorative iron fences and gates?
The best material for constructing decorative iron fences and gates is wrought iron, due to its durability and timeless design. Wrought iron is a durable and strong steel alloy often used for outdoor projects because of its rust-resistant qualities. In comparison, cast iron can corrode quickly when exposed to elements like rain and sun. Wrought iron has a classic look that will never go out of style, and it also provides unparalleled security because of its strength. Wrought iron gates can be designed to fit any home's exterior aesthetic, from traditional to modern designs. Additionally, wrought iron is relatively low maintenance since it does not require frequent repainting or reapplying sealants to protect against weather conditions. As such, wrought iron is the perfect material for creating beautiful and long-lasting decorative iron fences and gates.