Western Red Cedar Fence
Spring Fence Upgrade: Why You Should Get a Western Red Cedar Fence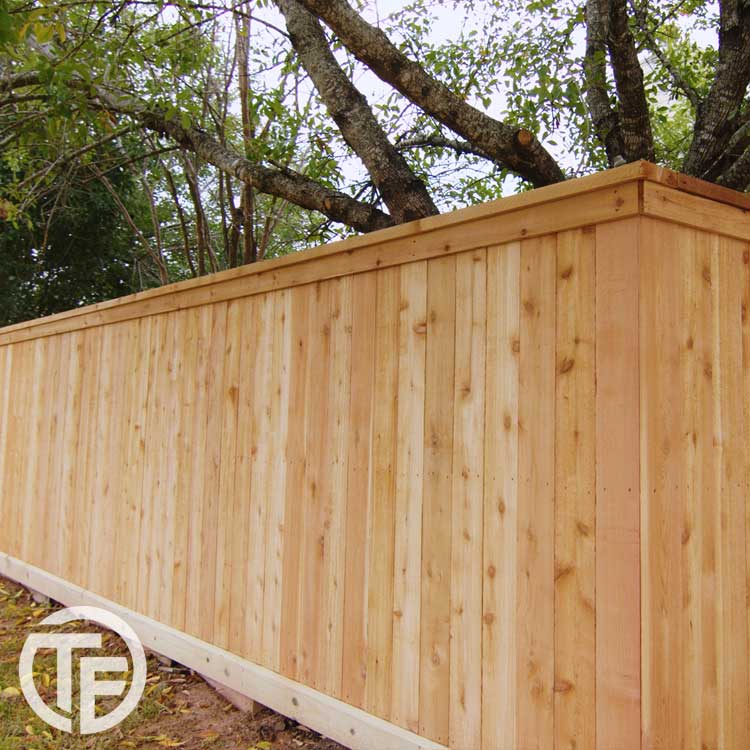 When it comes to upgrading your fence in springtime, you want something beautiful, sturdy and long-lasting. That's why you should consider investing in a western red cedar fence. This tantalizing timber, otherwise known as Thuja plicata, hails from the Pacific Northwest and delivers charm and strength for years to come. So what makes western red cedar the best choice for a fence upgrade? In this blog post, we'll explore its durability, straight grains, strength to weight ratio, insect and rot resistance and more. With these features, you'll see that a western red cedar fence is second to none when it comes to fending off Mother Nature with style!
Installing a Western Red Cedar Fence provides an additional layer of security and privacy while also enhancing the aesthetics of your property. It is also highly durable, rot resistant, and can last for decades with proper maintenance.
Western Red Cedar Fences are a Durable Choice
Western Red Cedar fences offer excellent durability, making them an ideal choice for any fencing project. The wood's natural resistance to moisture, decay, and insects makes it a smart investment that will last for decades. Furthermore, cedar comes in a variety of grades so you can choose the perfect option for your specific needs. For example, if you're looking for a sturdy fence that resists splintering, choose one or higher-grade boards. On the other hand, if price is your main concern you may opt for a lower grade and then seal it to increase its longevity.

A potential downside of western red cedar is that it can change color when exposed to direct sunlight; however, this can easily be remedied with a protective finish or sealant. Additionally, some styles (such as picket fences) require more maintenance than others (like board fences). Picket fences may need to be re-stained every few years to maintain their fresh look, while board fences require occasional repairs if weather or other elements cause damage over time.

For those who want a durable fence without frequent maintenance, western red cedar is an especially desirable choice. It offers several advantages: natural resistance to moisture, decay and insects, different grades for various budgets and needs, and the option for a protective finish to avoid discoloration from UV rays. Whether you are looking for an economical solution or something more luxurious, western red cedar should be high on your list of materials for your spring fence upgrade project.

When considering any fencing installation project, it is essential to factor in both quality and low maintenance requirements after completion. Fortunately, western red cedar offers both in spades – but it shouldn't end there.
Low Maintenance & High Quality
Western Red Cedar is a desirable material for fencing due to its durability, but also its amazing degree of low maintenance as compared to other fencing materials. Cedar has very little resistance to rot and decay, and because of this, it doesn't need regular staining or sanding in order to remain attractive and keep its original wood grain. Additionally, Western Red Cedar fences are typically pre-stained offsite by the manufacturer before they arrive on-site, so the job of maintaining the fence can be minimized even further. Not only is cedar easy to maintain, it also is naturally resistant to insects, making it a more desirable choice over other preservative-treated wood varieties.

This brings us to the quality of Western Red Cedar fences- not only does cedar require minimal maintenance over time, but it can last many years longer than other preservative-treated woods (which require frequent painting and staining). When properly maintained, you can expect a Western Red Cedar fence to last for at least 10-15 years without requiring significant repairs or replacements. With that kind of longevity along with its low maintenance requirements, a Western Red Cedar fence is undoubtedly an optimal solution for upgrading your property's security and beauty.

Whether considering an upgrade or replacement fence project from scratch, these long-lasting benefits make Western Red Cedar the perfect option when looking for a permanent solution which offers great value. But before committing to your ideal upgrade or replacement fence project there is one further factor to consider:
the lifetime warranty offered with most quality products.
According to the USDA Forest Service, Western Red Cedar is rot resistant, insect and weather resistant, naturally decay resistant and has a natural fire resistance rating.
Studies have found that cedar fences can be expected to last 15-20 years or more with proper care and maintenance.
A study by Oregon State University showed that cedar fences could reduce air pollution in residential areas due to their ability to filter out pollutants from the air.
Look at the Lifetime Warranty
A major benefit of upgrading to a Western Red Cedar fence is the availability of a lifetime warranty. A warranty is essential as it ensures you're protected in the event your product malfunctions or becomes damaged. Western Red Cedar fences are manufactured to exacting standards and are of the highest quality, meaning they should last a very long time; however, having a warranty in place provides peace of mind for unexpected occurrences. Additionally, many manufacturers offer transferability of warranties, meaning the warranty can be transferred if you decide to sell your property or if you choose to have someone else complete repairs.

Despite the potential benefits, warranties do have their limitations. You'll want to be aware of any exclusions or caveats before deciding if a warranty is your best option. It's important to read the fine print since some warranties may include conditions such as installation being completed by an accredited professional. Also, it's worth checking with the manufacturer to see if you'll need to follow up annually on warranty paperwork and if any fees apply.

Investing in a high quality Western Red Cedar fence with a lifetime warrantee offers several advantages including providing peace of mind and protection against mishaps.
Resistant to Weatherproofing
When considering any fence upgrade, it is important to consider the fence's weatherproofing abilities. Specifically, Western Red Cedar fences have a reputation for being some of the most weather resistant timber on the market. This is due to their naturally occurring oils and resins that are found within the lumber, acting as a barrier between the elements and your timber fencing. As a bonus, these same chemicals also grant Western Red Cedar a natural resistance to rot and decay – meaning that you should not have to worry about pests or critters damaging your fencing over time, especially if you follow up your initial purchase with proper maintenance and upkeep.

Indeed, this level of weatherproofing does come at a cost – users may find themselves paying more for these types of wood than other alternatives such as treated pine. However, this expense can be further alleviated by taking advantage of lifetime warranties offered on these products. A lifetime warranty will give you confidence in knowing that if anything were to happen to your fence due to wear-and-tear from extreme weather conditions such as rain and snow, Western Red Cedar will back you up with repairs or outright replacement.

As such, it is important to weigh the benefits of improved durability against potential added costs when considering a Western Red Cedar Fence. But either way you look at it, incorporating this type of timber into your landscape offers added aesthetic appeal while still maintaining high levels of protection from Mother Nature's wrath.
Aesthetics and Landscaping
Making sure your fence stands up to the elements is important, but for many the aesthetics of the project is just as important. There are a few reasons why homeowners should consider using western red cedar for their fencing upgrade. For starters, because it contains natural oils, this wood is naturally resistant to moisture and decay — making it great for climates that experience both hot and cold temperatures as well as rain or snow. It's also one of the lighter woods available, which makes it easy to work with while installing and balancing aesthetic appeal with sturdiness.

Furthermore, its warm color complements almost all landscaping. Red cedar comes in different color shades and can be stained or painted depending on whether you want to keep a more natural look or opt for a different color to accommodate existing structures like fences or decks. As an added bonus option, you can leave the wood untreated and it will weather nicely and develop a beautiful silver-gray patina over time.

Whether you're looking for something that stand out against existing structures or integrate seamlessly with them, western red cedars provide options. By carefully undertaking a fence upgrade with western red cedar, homeowners can create a stunning framework for their outdoor space that blends form and function with style. Ultimately, it all comes down to finding the perfect balance between both elements — something that modern materials often fail at achieving. Now, this balance can be found in the warmth and visual appeal of western red cedar fencing.
Warm Tone and Aesthetic Appeal
The warm tone and aesthetic appeal of a Western Red Cedar fence is one of the many reasons why it makes a great upgrade to your home. Its reddish-brown hue makes it stand out in any landscaping, whether it's part of a modern or traditional design. Plus, the cedar offers look-forward aging that other types of wood do not provide – after several years it will turn to a silvery grey, lasting through the elements and providing you with a timeless finish that continues to look great.

The only downside is that cedar can be susceptible to wind damage if not installed correctly. But with proper installation, you can rest easy knowing your fence will stand the test of time for many years to come.

What's even more—the knots found in Western Red Cedar wood bring a unique rustic arrangement to your fences that's sure to attract compliments from neighbors and passersby alike. With careful maintenance and attention, you can ensure that your Western Red Cedar fence looks beautiful for long periods of time.

When considering adding an upgrade to your home, Western Red Cedar should be at the top of your list for aesthetic appeal and longevity. Considering privacy needs as well? A Western Red Cedar fence can help take care of those too.
Western Red Cedar is a great upgrade to any home due to its aesthetic appeal, its reddish-brown hue, and its look-forward aging. It can give a unique rustic look that will be sure to attract compliments. With proper installation and maintenance, the fence will stand the test of time and provide privacy for many years.
Add Privacy with a Western Red Cedar Fence
After discussing how a Western Red Cedar fence can add warmth and aesthetic appeal to your home, it's worth considering how these fences are also an excellent choice for increasing your privacy. Of course, there will always be debate over the benefits and drawbacks of having a higher level of privacy in one's outdoor environment.

On one hand, there are those who argue that a Western Red Cedar fence imparts a feeling of being restricted and limits one's ability to enjoy the full extent of their outdoor space. By isolating yourself from potential visitors or neighbors, this kind of fence has the potential to make your backyard feel closed off, rather than open and inviting.

On the other hand, there are those who naturally place a high value on their privacy and view a Western Red Cedar fence as a way to achieve it. By blocking off views of your backyard from public areas, these kinds of fences allow each homeowner to create a private oasis that can connect them to nature without worrying about intrusive eyes. Furthermore, studies have found that people who prioritize privacy in their living conditions tend to exhibit better psychological well-being than those without the same sense of security.

Regardless of which side you take on this debate, it is clear that installing a Western Red Cedar fence is an effective way to increase privacy in your outdoor space. With natural wood grain patterns and warm colors, these modern fencing solutions not only provide security from outside interests but also bring an elegant charm to any landscape. Whether you're looking for added peace of mind or simply want to block out more noise from the neighborhood, upgrading to a Western Red Cedar fence is worth considering.
---
Frequently Asked Questions
How long will a Western Red Cedar fence last?
A Western Red Cedar fence can last anywhere from 15 to 20 years when maintained properly. The western red cedar is naturally resistant to rot, decay and insect infestations, making it an ideal choice for outdoor fences. Additionally, its tight grain pattern gives it superior strength and durability compared with other types of wood. It also weathers extremely well, meaning that it regularly holds up to strong winds, rain, snow and even extreme temperatures with minimal damage. Finally, a western red cedar fence is easy to repair or modify if needed, increasing its longevity even further. With the right maintenance, a quality-built western red cedar fence should easily last 15-20 years or more.
What are the benefits of having a Western Red Cedar fence?
A Western Red Cedar fence offers many benefits. First and foremost, it is an attractive, durable fence material that can last up to 20 years with little maintenance. While other types of wood tend to fade, rot, or warp over time, Western Red Cedar stays strong and stands the test of time. Additionally, the natural oils in the wood make it resistant to fungus, insects, and moisture damage, so you don't have to worry about anything negative happening to your fence over time. Additionally, because of its durability, many homeowners opt for Western Red Cedar fencing when they want privacy or security around their property lines as it can be more difficult to tamper with than other materials. Finally, a Western Red Cedar fence is also better for the environment than more traditional fencing materials like plastic or aluminum as it is made from sustainably harvested wood that does not add additional pollutants into your immediate environment.
What are the costs and maintenance requirements associated with a Western Red Cedar fence?
The costs and maintenance requirements associated with a Western Red Cedar fence vary depending upon the size and complexity of the fence. Generally, the fencing material itself will cost between $6 and $15 per linear foot for a standard cedar picket fence. Depending on what type of finish you choose, additional labor costs may be incurred. For basic maintenance, you should anticipate treating your cedar fence with a sealant every one to three years, whether with a clear or semi-transparent protective coating or a product specifically designed to protect against mildew and moisture damage. Additionally, you should inspect your fence regularly for signs of warping, splintering, cracking, or termite damage that may require repair or replacement.