How to Choose the Right Wood Fence for Your Home
The Right Wood Fence for Your Home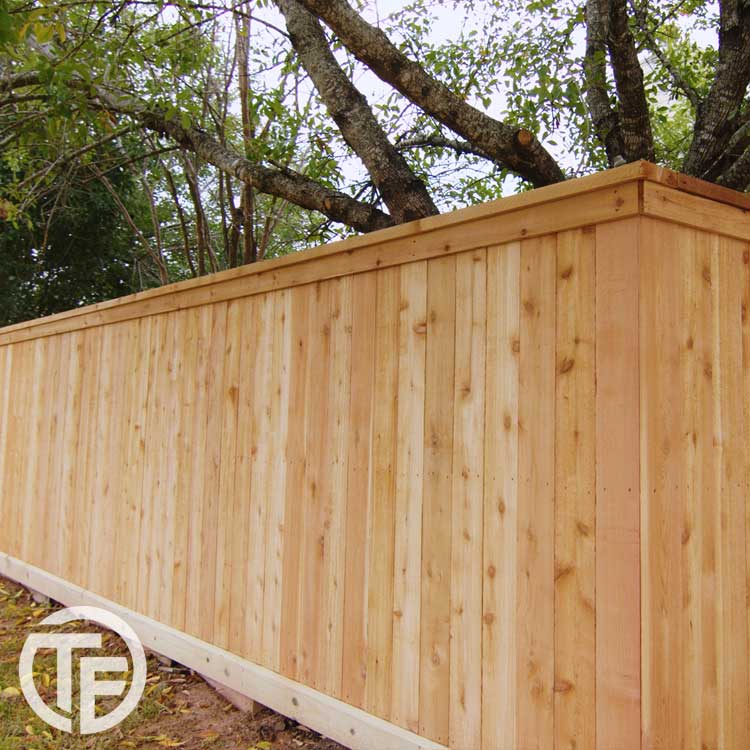 When it comes to selecting the right wood fence for your home, it's not just about aesthetics—it's about finding a fence that suits your needs and budget. From selecting the type of wood to picking the fence's style, there are many decisions to make; luckily, this guide will take you through the process step by step.
Types of Wood Fences
Wood fencing offers a range of styles and sizes for all types of homeowners. Among the most popular options are privacy fences, shadowbox fences, and picket fences. Each type of wood fencing has its own advantages and disadvantages, but overall, wood can provide an attractive option for home improvement projects that will last for years.

Privacy fences provide excellent coverage from outside noise and eyes, offering a degree of seclusion not found with other fence styles. Although these styles tend to be more expensive than picket or shadowbox fences due to their size, they can completely enclose a yard providing additional property value. On the other hand, shadowbox fences are less private because they allow visibility through their alternating board design.
Shadowbox designs do offer the added benefit of being more aesthetically pleasing without sacrificing privacy. Lastly, picket fences have become increasingly popular in recent years due to their decorative qualities and low cost. Unlike privacy or shadowbox fences, picket fences don't offer much privacy or protection from outside noise.

Wood is a long-lasting material that can vary in appearance depending on the type of wood used and its treatment options (i.e., staining and sealing). All types of wood fencing require regular maintenance such as cleaning and staining annually to make sure they retain their beauty over time. Fence owners should also keep an eye out for termites and other pests that may cause damage to wooden fencing if left unchecked.

When choosing the right wood fencing material for your home, it's important to consider your needs while considering associated costs and maintenance requirements. Regardless of which type you choose, you'll be ensuring your house has an attractive addition with great resale value.

Ultimately, it's up to you to decide which type of wood fence works best for your home – whether it's a traditional privacy fence or something more decorative like a picket fence – but considering all aspects before making your choice will help ensure success as well as satisfaction with your purchase when all is said and done.
Picket Fences
Picket fences are a classic option for a wood fence, perfect for homes with a traditional aesthetic. A picket fence gives the front yard of your home a decorative feel while adding some security and privacy, depending on the size and type of fence you choose. With so many different materials and styles to choose from, you can customize your picket fence to match your home's style and color scheme.

For many people, the main debate surrounding picket fences is the traditional look versus versatility. On one side, people argue for the traditional look that picket fences bring: it's an iconic aesthetic that never really goes out of style. Alternatively, there are those who say that since wooden picket fences come in so many different colors, heights, widths and even shapes, they offer more versatility than you might think—allowing you to choose whichever design best suits your home.

Both sides of this argument have evidence to support their views. The traditional look that picket fences offer has been around for centuries and will remain timeless in the eyes of many; plus, stained wood and white paint can both bring out a classic setting. But picket fences can also be customized with interesting patterns or more bold colors such as forest green or navy blue to give off a modern and unique vibe — allowing homeowners to get creative with their choice of fence.

No matter what you decide, picket fences can be a great addition to any home. From enhancing curb appeal to adding extra security and privacy, they offer an undeniable charm without compromising possible design options available.
Lattice Fences
Let's move onto lattice fences. These can bring an artistic aspect to your yard, while also providing more privacy than a picket fence. Lattice fences have narrow strips of wood that are arranged in a crisscross pattern. Depending on how tight you make the slats and how high they are, you can customize the amount of visual privacy you get from this style of fence. There is also the option of painting or staining lattice fences for added visual appeal. The downside is that the spaces between the crisscrossing boards can be big enough to allow smaller animals and children through, so there isn't much security with this type of fence.

All things considered, lattice fences provide some visual variation to your yard with their visually interesting shapes, while also increasing privacy compared to picket fences – just remember that children and small animals can still squeeze through the holes!
Privacy Fences
After discussing lattice fences, it is time to move on to privacy fences. A privacy fence is any type of fence that completely encloses a yard, providing privacy for the homeowner and their family. This can be accomplished with various materials such as wood, vinyl, and composite, among others. However, when it comes to selecting a privacy fence for your home, wood may be the best option.

Wood privacy fences are attractive and relatively inexpensive compared to other options. With proper maintenance, they can last a lifetime and provide superior security from intruders. Wood also has the advantage of increasing the aesthetic appeal of your home and adding value to your property. Additionally, since wood is a renewable resource, it is an environmentally friendly option.

However, some may argue that fencing materials such as vinyl or composite are superior options. Vinyl is a cheap and low-maintenance option which will not rot or corrode over time. Composite fences are also becoming more popular due to their durability, in addition to being faster and easier to install than wood fences.

When deciding between the two options, consider what you need out of a fence in terms of security, longevity, visual appeal, and environmental impact. Ultimately each material has its pros and cons – it is up to you as the homeowner to determine which material will be the most suitable for your needs.

Benefits of Wood Fences
Wood fences bring a range of benefits to your home. Moreover, compared to privacy fences made from metal or other materials, wood fences provide better privacy and security. That is because wood fences can be designed with panels and pickets for extra layers of protection, further blocking visibility from outside. Furthermore, wood fences offer great flexibility in terms of design, style, and customization as they can vary in size, height, width, and type of material used.

Wood fences also contribute to the outdoors with a rustic charm that cannot be compared to any other material. Not to mention that wood is an environmentally friendly choice when it comes to fencing materials due to its biodegradable traits. Plus, its aesthetics can last for many years if properly maintained while still preserving its beauty during the entire time.

In addition, price plays an important role because people may choose wooden fences instead of metal fence alternatives. Wooden fences tend to be more affordable than their counterparts because of the variance in cost for different types of woods.

This is not to say that metal fencing does not have its own advantages like security and strength—it can just come with a higher price tag compared to wood fencing options.

Overall, both types of fencing materials have their pros and cons too dependent on upon personal preferences; however as we move away from privacy fence styles and into other shapes and looks available with wooden fences, we will explore how these options can enrich your outdoor spaces even more.
Shapes of Wood Fences
While the benefits of wood fences are clear, there are also many considerations when it comes to shape. Depending on where your fence will be located and what purpose you need it to serve, different types of fence shapes can give you style and security. Popular options include lattice and picket fences with delicate scrollwork, as well as solid board or board-on-board fences for extra privacy. For those looking for a classic look, picket fences provide the most traditional option.

Lattice tops can offer a level of protection from unwanted views while still allowing some natural light to filter in. Picket fences are great for curving around beds or landscaping features and add a quaint charm to any outdoor space. Board-on-board fencing can help create a sense of intimacy and is usually constructed higher than other types of fencing for extra security.

No matter what kind of fence shape you choose, there are always tradeoffs. More complex designs may cost more initially, but they could save you money in the long run due to their durability and longevity. Additionally, while more intricate designs intentionally attract attention, they may not provide the same level of privacy as simpler designs.

When planning your fence layout, always consider how different shapes may impact visual appeal and functionality. Regardless of which shape works best for your home and landscape, it's important to choose quality materials that stand up against frequent use and outdoor elements. With careful consideration towards both form and function, you can find the perfect fence to fit your needs now and into the future.


Rectangular Shaped Fences
Rectangular shaped fences are the most popular choice when it comes to wood fencing options. Their straightforward design and structure make them a great way to create a classic look for your home. On one hand, some homeowners may be looking for something a bit different – an option that stands out and provides more of a wow factor than the simple rectangular shape. On the other hand, many people appreciate all the benefits associated with rectangular-shaped fences.
For example, they can be used to enclose a large area quickly or to add custom details that highlight certain sections of your property. For those who are looking for privacy, rectangular fences offer closed sections, which can be very beneficial. Additionally, these fences don't require much maintenance and their simple construction makes them perfect for DIYers.

No matter what shape you choose for your fence, it should feel like an extension of your home's outdoor environment with its look and design enhancing the space rather than hindering it. As you move on from this section towards exploring oval shaped fences, remember that you need to take into consideration any local bylaws before setting up your fence as certain neighborhoods and regions may have limits on specific styles or types of fences so double check with your local authorities before making any decisions.
Oval Shaped Fences
Moving away from rectangular shaped pickets, oval shaped pickets are an ideal way to add an elegant touch to your fence. The curved edges of the picket create a softer look than a rectangular picket as it follows the natural curves of the body. Curved pickets will also provide better privacy than straight kind, although it is worth noting that if you need more protection from onlookers, using shorter pickets can allow a glimpse of what's beyond the fence. Depending on the size and type of shape used, oval shaped fences can cost more than their rectangular counterparts.

When deciding which style fence is best for your home, consider whether oval shaped pickets are in line with your tastes, budget and privacy needs. If you live in a neighborhood where the homes all have similar designs, then integrating a curved picket into your landscape might be just enough to stand out while still being complementary to the surroundings. On the other hand, if money is tight or you prefer a simpler look, a rectangular picket may be right for you.

In any case, it's important to weigh both options carefully before deciding to ensure you're obtaining the right fencing solution for your home.
Curved Shaped Fence
Curved shaped fences add a unique, decorative touch to any home. They can be used to frame or enclose areas or along pathways for aesthetic purposes and provide an ingenious method for changing the overall look and feel of a yard. Although slightly more expensive than standard fence designs, curved wood fences are strong and durable, making them worth the extra expense if you're looking to create a distinctive look. Consider what area you would like to partition off with the fence, such as a garden or pool, and then decide where best to place it within your property.

When deciding on whether or not to purchase curved fences, consider the size of the area you plan to enclose as well as any additional accents like stones, panels, and gates that may reinforce the design. Additionally, many people find curved fences easier to maintain because they don't require painting or staining as often as other types of wooden fencing. Finally, curved fences also tend to be quieter because they absorb sound more easily than traditional fence designs. All these advantages come with a higher price tag; however, they can add both beauty and value to your home.

In addition to considering its appearance and benefits, you should also think about how your location and climate will affect how quickly it could degrade over time due to weather conditions. As rainwater accumulates against the curve of the fence when there's heavy rainfall, it can severely damage the structure of a wooden fence if left unaddressed for extended periods of time. Therefore, it's important that you evaluate your environment when shopping for wood fencing in order to determine its expected lifespan.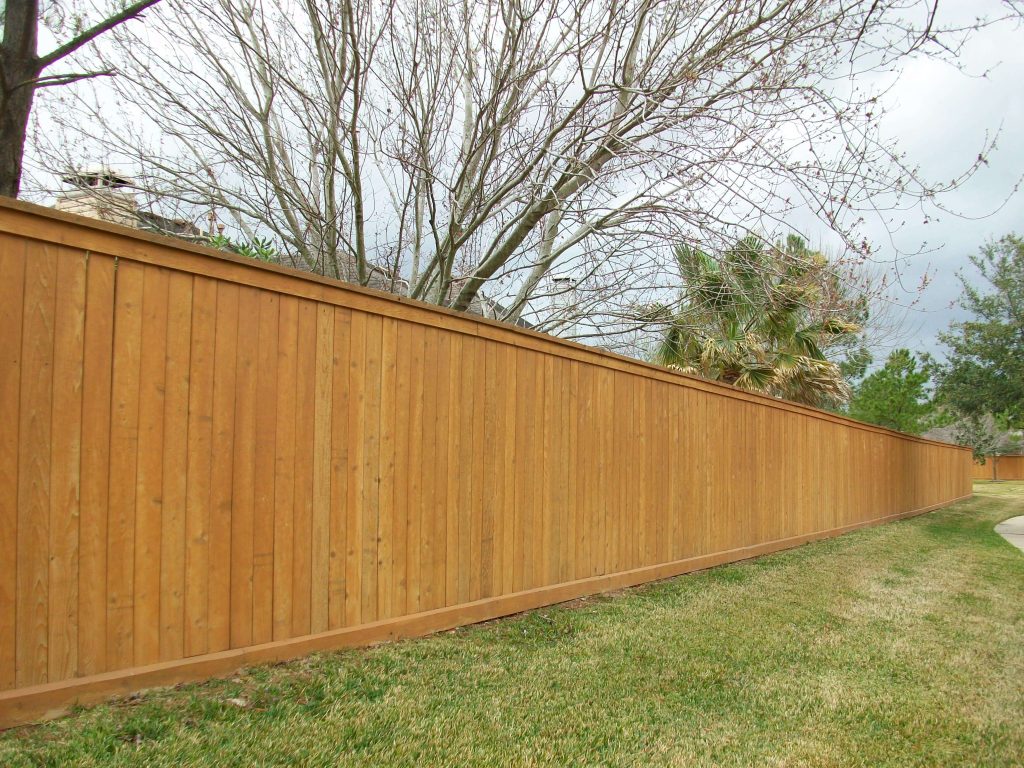 Location and Climate Considerations
When selecting a wood fence, the location and climate of your area should also be considered. Many types of wood are not ideal in climates with extreme temperature variations due to their susceptibility to warping and cracking. Furthermore, depending on where you live, specific regulations may be in place that affect what kind of materials and styles you are allowed to use. For example, citizens living close to the ocean may need to opt for a non-giveaway fencing material instead of a wooden fence if close quarters exist between two properties.

Although it might seem counterintuitive, some believe the shape of the fence can help protect it from extreme weather conditions. Some argue that curved shaped fences may fare better than straight ones because the more gradual curve creates less air pressure against one side, thus reducing wind loading. On the other hand, there is evidence that states curved panels can become less secure around high winds due to their large surface areas creating more drag and lift.

It is ultimately up to each homeowner to decide which type of wood fence will best suit their home's needs based on their location and climate. No matter what style or material you pick, take these factors into consideration when evaluating your options so you can find a fence that stands the test of time. With just a bit of extra work upfront, you will be able to make sure your fence protects your home as long as possible while also fitting your unique style preferences. To ensure continued success, it's also important to consider how easy it is to maintain your fence.
Maintenance and Cost-Effectiveness of Wood Fences
When deciding on the best wood fence for your home, considering maintenance and cost-effectiveness are just as important as location and climate considerations. While wood fences may offer an attractive aesthetic appearance, they require regular ongoing maintenance to maintain their good looks. They may need to be stained or sealed yearly to preserve the integrity of the wood and prevent weather damage, pests, and decay. This upkeep can be expensive over time, and depending on the climate of your location, you may find yourself maintaining it more often than projected, which could add to your overall costs.

On the other hand, the initial cost of installing a wood fence can be lower compared to other materials such as vinyl or metal. The affordability of a wooden fence is often attractive to those who may have a limited budget for repairs or need a quick fix that doesn't break the bank. Additionally, if properly maintained with routine sealing and staining every few years, a wooden fence can last for decades. Thus, although there may be some significant investment required in terms of ongoing maintenance and sealant products, some homeowners feel that wood fences are ultimately worth it due to their affordability and long lifespan when properly taken care of.

Overall, when choosing the right wood fence for your home, you should consider whether you will have enough time and resources available to dedicate towards its maintenance over the years. If so, then a wood fence could provide an economical solution for your fencing needs that allows you to reap many benefits for years to come.
---
Frequently Asked Questions
What are the benefits of different fence styles?
Fence styles can provide a variety of benefits to your home. Picket fences are great for smaller yards and create a traditional, classic look in the landscape. They also provide limited privacy since they are spaced further apart than other fence designs. For increased privacy and security, chain-link or solid wood panels may be a better option since they offer more protection and coverage.
Vinyl fencing is durable, low-maintenance, and can come in a range of colors making it an ideal choice for long-term use. Aluminum fencing is very lightweight but is still strong enough to keep small pets contained in the yard. Finally, split rail fencing is a great option for wide open spaces, as it offers natural beauty without blocking any views. Each style has unique advantages and no matter which style you choose, it will add value and style to your home.
What types of wood should I consider for my fence?
When considering the type of wood for your fence, you should consider both the aesthetic and practical aspects. Depending on your desired look, you can either choose a hardwood or softwood option.

Hardwoods are typically more expensive than softwoods, but they last longer and provide a more attractive look. Hardwoods such as mahogany, teak, cedar, walnut and oak are very popular choices because they're not only aesthetically pleasing but also quite durable. They don't rot easily and are resistant to pests, such as termites or carpenter ants, while still being able to withstand moisture without warping. Additionally, hardwoods come in a variety of colors, so you have more options when it comes to finding the perfect color for your fence.

For those looking for an economical option, softwoods may be more suitable. Softwood is usually less expensive than hardwoods, but they do require more maintenance over time because they tend to rot faster when exposed to the elements. Popular softwood choices include pine and spruce; however, spruce is more often used for panel fencing since it's cheaper and easier to find pre-made pickets that match in size than with pine. Softwoods also tend to weather faster than hardwoods which can give them a rustic charm.

Ultimately, the best way to determine which type of wood is right for your fence is by evaluating both the practicality and aesthetics of each option. After weighing out all your considerations – cost, durability and aesthetic appeal – you will be able to make an informed decision about what type of wood fence is right for your home.
How do I ensure my fence will last?
Ensuring that your fence will last depends on choosing the right materials and properly installing it. To begin with, you should choose a fence constructed from high-quality materials like cedar, redwood, teak, or pressure-treated pine. These woods are naturally resistant to rot, decay, and insects, which helps to extend the lifespan of your fence. Additionally, make sure any hardware and fasteners used (i.e., nails and screws) are designed for outdoor use and have appropriate corrosion protection as well. Lastly, ensure you properly install your fence and use proper bracing techniques to help keep it standing for years to come.