Residential Iron Fences
Benefits and Design Ideas for Iron Fences for Your Home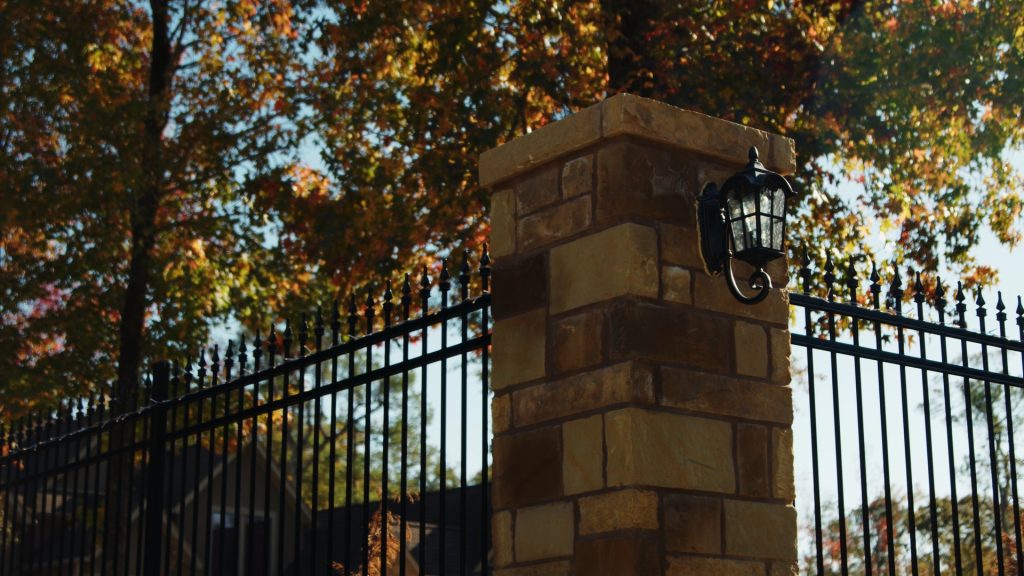 When it comes to providing safety and security to your home, there is nothing more reliable than a residential iron fence. This sturdy piece of fencing not only serves as an effective security barrier against intruders, it can also bring an elegant and inviting appearance to your home. From ornamental to basic, there are a variety of designs, colors, and styles of residential iron fencing to choose from. And not to mention, there are numerous advantages that can be enjoyed from having this type of fencing around your home. In this blog post, we will discuss why residential iron fencing is a smart choice for your home, examine the various benefits it can bring, and provide you with design ideas to inspire your own residential iron fence project.
The Benefits of Residential Iron Fences
Iron fences provide beauty and security to any residential property. There are a number of benefits associated with having an iron fence around your home, the first of which is aesthetic. Iron fences enhance the look of any property with their classic and timeless design. Furthermore, they provide a level of privacy that many other types of fencing cannot. This can be especially beneficial in areas where people walking or driving by might otherwise be able to see onto a property owner's land. That being said, some may argue that a regular wooden fence would provide just as much security – if not more – than an iron one; however, a well-crafted iron fence can be extremely difficult to scale or bypass. Additionally, iron fences are much less likely to be affected by weather over time than other materials such as wood or vinyl, increasing their durability.

Ultimately, residential iron fences offer homeowners protection and peace of mind while also improving the appearance of their property. While there are several options available when it comes to fencing, investing in an elegant iron fence can help enhance security and safety for you and your family for years to come.
Enhancing Property Security and Safety
Security is one of the biggest advantages to having a residential iron fence. Chances are if someone is looking over your property, they may be less inclined to step foot onto your land if there is a visible barrier hopefully deterring any prospective intruders. They can provide privacy, whereas low-level fencing does not necessarily stop people from peeking in and out at the same time making it more secure. Installing an iron fence can be a great way to keep potential crooks from entering your home or yard without a second thought.

There are both pros and cons when it comes to enhanced safety with iron fencing as some people think that having such a tall fence may attract attention instead of discouraging it. Some also find that the high fences can create an intimidating environment, instead of a cozy and inviting one. Others may feel that the security provided by an iron fence is well worth the investment with their added height and stability providing superior protection than other materials.

There have been numerous cases in which homeowners found that installing an iron fence has helped them feel safer in their own homes because it acts as both a physical boundary as well as a psychological one. Iron fences can work together with motion sensor lights, alarms, and other deterrents to help keep your family safe both day and night.

When deciding whether an iron fence is a suitable option for enhancing the security of your home, it is important to remember to weigh all the pros and cons before making a commitment. Whatever decision you make, know that you will now have peace of mind in knowing that you're taking the necessary precautions when it comes to protecting your home from possible intruders.

No matter your reason for requesting an iron fence – for decoration or for privacy – keep in mind the added beauty and design ideas which can turn even the most ordinary fencing space into something extraordinary. Careful consideration should be given to this aspect as well when designing your perfect fencing solution.
Providing Beauty and Decorations
After discussing the benefits of residential iron fences in enhancing property security and safety, it is also important to consider the decorative aspects of iron fences. Iron fences can certainly provide a beautiful and elegant look to your home or yard without compromising security. Many homeowners appreciate the ability to maintain a classic and vintage look in their landscaping. Iron fences can be intricately designed with design elements such as spirals, circles, scallops and more. There are many options available on the market today that will add a touch of beauty and class without sacrificing the protective nature of fencing.

Although the aesthetics of an iron fence is a plus, some may argue that other materials such as aluminum or wood could provide an equally attractive fence and still give homeowners security. However, when considering both durability and beauty, these alternatives simply cannot compare to a quality crafted iron fence. Iron has been used for many centuries not just for security, but also for fanciful decorations around castles and large estates. This versatility makes it an ideal choice when both aesthetic tastes and protection factors are considered.

Iron fences are able to be painted in nearly any color imaginable so they can seamlessly fit into any landscape design with ease. They are strong enough to withstand all types of weather conditions while still looking beautiful year after year. With proper maintenance, they will last for decades without having to be replaced due to rusting or decay. For those who desire true beauty combined with durability for their homes, then an iron fence should be considered as a potential option.

With all this said, there is no one-size-fits-all solution when making decisions about landscaping security and decoration at home. Finding the right balance between style and substance is an important factor when choosing the perfect fencing material for your property.
Choosing the Right Iron Fence for Your Home
Homeowners often look to improve the beauty and decoration of their house with additional elements such as residential iron fences. When faced with so many options related to design, materials as well as budget, it is important to make sure that you pick the right fence for your home. Different factors need to be taken into consideration, such as the size and shape of the spaces you wish to cover, the type of existing architecture, as well as what kind of statement you are trying to achieve.

When it comes to cost and materials, wrought iron is a good choice when looking for durability and less maintenance. This material offers an attractive aesthetic that will add character and charm to any outdoor space. However, it needs to be regularly treated to prevent rusting. On the other hand, modern aluminum fencing is becoming increasingly popular due to its lightweight properties and affordability – but it doesn't offer the same visual impact as wrought iron. Ultimately, homeowners should evaluate their unique needs before deciding on which option is best for them.

No matter what material you choose for your residential iron fence, it's important to keep in mind that these additions can significantly enhance property value and help create an enjoyable outdoor landscape. As such, it is worth considering several design ideas before investing in one fence or material.
Available Materials for Residential Iron Fences
When it comes to residential iron fences, the materials used can often make or break the overall look and effectiveness of your new fence. The materials typically used to construct a residential iron fence include steel, aluminum, wrought iron, and ornamental iron. Since each material offers different benefits in terms of affordability and durability, it's important to weigh all your options before making a final decision.

Steel is one of the most affordable and long-lasting materials used for residential iron fences due to its strength and resistance to extreme weather conditions such as windy conditions. Steel also does not require any special coating, though it does tend to corrode over time. Although the cost of the fencing may be more initially, you will recoup your investment because this type of fencing requires minimal repairs and maintenance over time.

Aluminum has become increasingly popular in recent years due to its affordability and ease of installation. Unlike steel, aluminum is resistant to corrosion and won't require any sort of painting or sealing to protect it from weather damage. However, it is not quite as strong as other materials like steel, so it may not be the best choice for homes in areas prone to hurricanes or heavy winds.

Wrought iron has long been considered one of the best materials for residential iron fences due to its superior strength and aesthetic appeal. It provides an elegant look that enhances the curb appeal of any home while still providing an effective security barrier around your property. Although it costs more initially than other metals like steel or aluminum, wrought iron requires less maintenance over time and is often considered a worthwhile investment for homeowners looking for a quality fence design with lasting attractiveness.

Ornamental iron is another great option for residential iron fences especially if you are looking for something that offers a unique design element that adds character to your home's exterior. This type of fencing features intricate patterns, textures, and designs crafted out of metal that make it stand out from other fencing styles while providing superior protection against intruders or trespassers. However, because these designs are usually handcrafted, they can be rather expensive compared to other options on the market today.

No matter which option you choose for your new residential iron fence, remember that you should always consult with a qualified installer prior to making any decisions about material type or design style. Doing so will ensure you get exactly what you need at a price that meets your budget without sacrificing quality or value.
---
FAQ
How much does a residential iron fence cost?
The cost of a residential iron fence depends on the size, type and features you choose for your property. On average, a basic 4-foot-high residential iron fence typically costs between $50-$80 per linear foot. There are additional cost factors to consider, such as installation cost and the type of gate you select. A custom-designed residential iron fencing with decorative elements can range from $80-$170 per linear foot, depending on the complexity and design. For more specific pricing information, it is recommended to contact a local fencing contractor for a quote.
What are the benefits of installing a residential iron fence?
Installing a residential iron fence can provide several excellent benefits for homeowners. Firstly, iron fencing adds an extra level of security and can serve as a deterrent to would-be intruders. These fences are typically tall and difficult to climb, making it much more difficult for trespassers to access the property. Additionally, iron fences can also help provide privacy from adjacent properties or busy roads. Finally, these fences bring considerable aesthetic value to any property due to their impressive designs and stylish features. They can greatly enhance the overall appearance of any property without dominating the landscape.
How long does it typically take to install a residential iron fence?
On average, it typically takes approximately one to three days to install a residential iron fence. However, this can vary depending on the size and complexity of the fence, which can determine the amount of time needed for installation. In addition, experienced professional installers may be able to complete the job more quickly than someone who is new to the task. Finally, along with leveraging their skillset, experienced fencing professionals may also have access to modern tools and equipment that can significantly speed up installation times as well.