Cedar Fence Ideas for Summer
Cedar Fence Ideas to Make Your Summer Even Better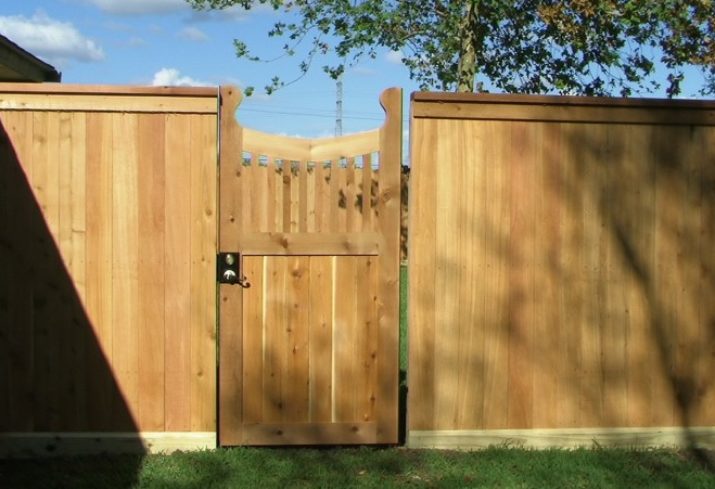 Is your backyard feeling drab and lackluster this summer? Are you looking for a way to make your summer season even brighter, more lively, and more exciting? Then look no further than this guide to 10 cedar fence ideas that can turn your backyard into a lively outdoor sanctuary! With these accessible ideas for DIYers of any skill level, you'll be able to turn your lackluster backyard into a summer retreat you won't want to leave. From picket fencing to horizontal fencing, learn how to make the perfect fence for your backyard dreams—without spending a fortune!
You could paint your cedar fence a bright and cheerful summer color or decorate it with hanging flower baskets. Alternatively, you could add a trellis to provide a space for climbing plants and flowers to create an inviting atmosphere.
Reasons to opt for a Cedar Fence in Summer
As the summer months approach, many people are looking for new ways to spruce up their homes and backyards for all their summer activities. One great option is installing a cedar fence. Cedar fences last long, come in many different styles, and are an environmentally friendly choice as they are biodegradable and require no paint or stain treatments. In addition, since they are made from a durable wood type that is naturally resistant to rot and insects, they can stand up against even the hottest summer days without requiring extra maintenance.

Cedar fences also provide homeowners with a sense of privacy and security, something that is essential during those leisurely summer days when daylight grows shorter and the sun sets. Furthermore, since they are aesthetically pleasing by nature, they add a pleasant look to any home's outdoor space while allowing you to create distinctive fencing designs tailored to your tastes.

On the other hand, it may be argued that building a cedar fence presents its own set of disadvantages. The most pressing of these may be its cost; cedar materials can be costly upfront, so it's important for homeowners to consider their budget before making any decision. As well, installation requires more work than other fence types because it is labor-intensive due to the need for various construction tools and materials.

Overall, cedar fences offer many advantages for homeowners who wish to make the most of their summer activities while adding aesthetic value to their properties. With careful planning and consideration ahead of time, choosing a cedar fence design can be easy while simultaneously providing your home with extra security and protection. Plus, with a wide range of fence models available on the market today, finding one perfect for your space should be simple; the only issue will be deciding which one!
How to Choose the Right Cedar Fence Design for Your Home
Choosing the right cedar fence design for your home can be a difficult task. On one hand, it's important to find a design that complements your home's existing aesthetic and property size. On the other hand, it needs to meet your needs for security, privacy and style. Fortunately, with 10 cedar fence ideas now available, you'll be sure to find something that will make your summer even better.

When selecting a design for your cedar fence, keep in mind a few key factors. First, consider the climate where you live – some cedar fences may remain more durable in certain climates than others. Additionally, think about the purpose of the fence – do you need it primarily for privacy or are you just looking for an attractive border around your yard? Knowing the answers to these questions can help narrow down your selection so that you can make an informed decision.

Of course, you will also want to consider both practicality and cost when making your final decision. If cost is an issue, think about using cedar panels or prefabricated boards as opposed to constructing each part of the fence yourself. These pre-made pieces tend to be cheaper and faster to install than starting from scratch.

No matter which design option you choose, cedar is sure to add value and beauty to your home this summer. With its attractive textures, warm colors and natural beauty, there's no doubt that cedar makes an excellent choice for any outdoor space. As such, it is up to you select which design best meets your needs and will make your outdoor living environment even better this season!

Now that you have chosen the right cedar fence design for your home, there is still one more important factor to consider – color and style options. Both of these are essential elements of the overall look and feel of any fence and should be carefully considered before making a final decision on what type of fence will best suit your aesthetic needs.
Consider Color and Style Options
Now that the right cedar fence design for your home is selected, the next step is to consider the color and style options available. When it comes to cedar fences, there is a wide range of natural shades ranging from light yellow-browns to rich reddish-browns. Depending on your preference, you can also choose from various paint and stain options to either enhance or alter the natural color of the wood. Additionally, cedar wood can be practicably used for diverse styles and designs, such as picket fence, Gothic-style pickets, post and rail boards, and more.

While painting or staining provides enough customization to match your outdoor decor, it is important to remember that it will require regular maintenance once applied. This requires that you consistently drain all pooling of dirt and water and re-stain or repaint every two-to-four years. Thus, while selecting attractive color and style options for a cedar fence is important, it should be weighed with possible future maintenance costs.

The decision of selecting the right color and style option for your fence becomes easier when armed with thorough knowledge of both the pros and cons. With careful consideration of the existing decor in your backyard and potential maintenance responsibilities involved in keeping the fence looking good over time, you'll be able to make an informed choice while achieving the desired look in no time.

Determine the Appropriate Height and Width of the Fence
Once you've decided on a color and style for your cedar fence, it's time to determine the appropriate height and width. This is an important step — not only does an ill-fitting fence look out of place in your backyard, but it also reduces its value and serves as a deterrent to prospective buyers when reselling.

How tall should your fence be? It's best to have at least 6 feet of privacy from your neighbors. In many places, local building codes place a limit on how tall a residential fence can be; make sure to double check if you live in one of those spots. As for the width, go narrow if you want more visibility or wider if total privacy is what you're after.

The right height and width of your fence provides several benefits. For starters, it maintains the security of your property. With proper installation, every space between the posts and lines is well-protected against intruders. Additionally, it will enhance the curb appeal of your house by enhancing its overall aesthetics.

If you're worried about installing the fence yourself, don't fret — there are plenty of companies that provide easy installation packages, so you don't have to do the hard work yourself. In any case, find out what size materials you need before purchasing them to guarantee an appropriate fit for your backyard space.



How to Attach the Posts to the Ground
Once you have determined the appropriate height and width of the fence, it is time to attach the posts to the ground. There are two main methods for attaching posts – direct burial or setting in concrete. Direct burial is when you simply shovel a 12-18-inch-deep hole, insert the post in the hole and fill it back up with soil. It is important that the soil be compacted around the post, so it stays firmly in place. The advantage of this method is that it is quick and easy. The disadvantage however is that depending on how wet your soil gets and how large the post is, it can cause your fence to become wobbly over time as the soil shifts around.

The other option for attaching posts is to set them in concrete. This option takes extra time and effort because holes need to be dug twice as deep as direct burial (24-36 inches). After digging the hole, pour concrete into it until just below grade level and insert the post. Now you will allow 24 hours for the concrete to dry before continuing work on the fence. Although this option takes more time upfront, many professionals will argue that in the long term, this method will result in a more stable structure since concrete does not move over time like soil does.

Having looked at both methods of attaching posts to ground, one can now make an informed decision as to which one best suit their needs and goals when building a summer-ready cedar fence.
DIY Ideas for Creating a Summer-Ready Cedar Fence
Installing a cedar fence is an excellent way to add style and beauty to your outdoor space. It also serves to keep away unwanted guests, give you privacy, and increase the value of your property. But before you start building there are some important points to consider. What type of cedar material should you use? And should you attempt a DIY installation or bring in professionals?

One option is to use pre-assembled cedar panels. This approach requires minimal labor, as the panels have been sanded, grooved, and stained in a factory setting. All you would need to do is attach the panels to the posts. The downside is that you'll likely have fewer customization options when compared to materials purchased separately.

If you prefer customizing your fence design then purchasing raw lumber may be the best choice. You can select exactly what type of wood you want so everything looks cohesive aesthetically. Since you're starting with raw lumber it will require more time and effort to sand, stain, and assemble the pieces properly. But if you're up for a challenge then this could be an avenue worth exploring.

Whether you choose pre-assembled panels, raw lumber, or anything in between — when doing a DIY installation, it's very important to research safety protocols and tools needed before starting any project. Additionally, while cedar is a durable material, don't forget to factor in annual maintenance such as staining or re-sealing your fence every few years depending on weather conditions and other factors.

Finally, if all else fails it might be best to consult with a local fencing expert who can help guide you throughout the entire process from start to finish. Professional installation ensures that each step — from digging post holes and attaching them securely — will be done correctly the first time around. This piece of mind comes at an added cost but for some homeowners it may be worth avoiding any potential risks associated with DIY work.
---
Common Questions
Are there any additional steps I can take to make a cedar fence more durable against the heat in summer?
Yes, there are several additional steps you can take to make a cedar fence more durable against the heat in summer. First, create shade around the fence by growing trees or vines that will block UV rays. You can also use a stain preservative on your cedar fence as this will help protect it from the sun's rays while keeping its natural color and beauty. Finally, to protect the wood from expansion and contraction due to temperature changes, consider installing an adjustable strip between the posts that prevents warping over time. These steps will ensure your cedar fence will look great and be strong against summer heat for many years to come.
What types of cedar fence designs are suitable for summer use?
There are many types of cedar fence designs that are suitable for summer use. Horizontal slatted cedar fences, board on board design, custom picket fences, shadow box designs, trellis fencing, lattice fencing, and scalloped picket fencing all provide privacy and may help keep out the summer's heat in sunny climates. Additionally, using a cedar stain or sealant is essential to maintain the beauty of your fence and protect it from rot and weathering damage caused by the summer heat. The 10 Cedar Fence Ideas to Make Your Summer Even Better book provides helpful information about various designs and materials to help create the perfect cedar fence for your enjoyment during the summer season.
What creative ideas can I use to enhance the aesthetics of a cedar fence in the summer?
1. A great way to enhance the aesthetics of a cedar fence in the summer is to paint it with bright, cheerful colors. Choose fun and vibrant hues, such as yellow, lime green, teal blue, or coral pink. This will make your fence stand out against the backdrop of your garden or backyard and create an eye-catching display for everyone to admire.

2. Adding some hanging planters can transform your cedar fence into a lush summer paradise. Vines and colorful flowers will bring out the natural beauty of the wood grain, while adding an enchanting ambiance that's perfect for outdoor living.

3. Embellish your cedar fence with ivy or other raised patterned elements like lattice boards or pergolas. These decorative accents are both beautiful and functional; they provide extra support and privacy without sacrificing style and design flair.

4. You can also add interesting silhouettes by creating silhouette cutouts along the rails of your fence. Use these silhouettes to depict a favorite animal or even just a classic nautical shape (think anchor, ship wheel, starfish). Not only are these shapes aesthetically pleasing but they also double as shadows when light passes through them during the day!

5. If you'd like to incorporate more naturalistic elements into your design, consider weaving in branches and foliage into the structure of your cedar fence. This is sure to turn heads while giving your space a touch of rustic charm.

6. Get creative with how you handle lighting around your cedar fence in the summertime! String up string lights or paper lanterns for a romantic twinkle effect or go bold with dynamic theatrical lights that change color depending on the setting of the sun.

7. Electric fencing can make any regular cedar fence come alive with energy! Installing electric wires along the top railing offers both heightened security while also giving off mysterious vibes that bring life to even the most average-looking fences out there.

8. Another creative idea could be to upcycle old beer bottles or wine corks into colorful wind chimes by tying them together with string or wire and then suspending them along the length of your fence for an added aesthetic touch!

9. Install potted plants alongside your cedar fence for a personal touch that stands out from the crowd! Bigger trees with bundles of cascading leaves or small succulents dotted along your railing can give off a powerful visual impact that makes statements all year long – no matter what season we're in!