Find the Right Commercial Fence Company for Your Business Needs
Picture this: You've invested your blood, sweat, and tears into building a successful business with an attractive storefront. However, you realize that securing the premises is essential in order to protect your investment from potential threats. Just like finding the right employees or insurance plan, choosing the ideal commercial fence company for your business needs is crucial to ensure its long-term growth and success. In this blog post, we'll walk you through some essential tips on selecting the perfect fencing partner so you can rest easy knowing your hard-earned achievements are well-guarded. Don't let subpar fencing solutions hinder your business's expansion – read on to discover how to find the right fence company in just a few simple steps.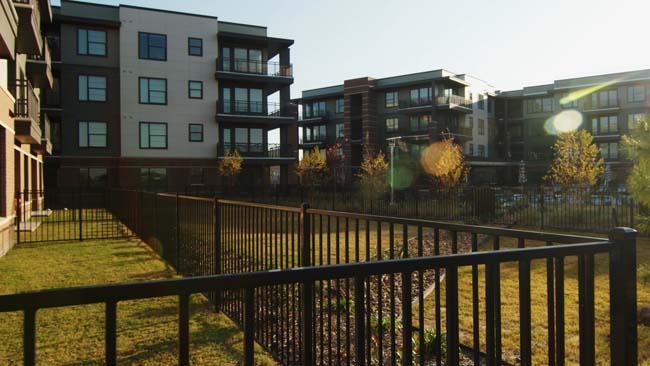 Choosing the Right Commercial Fence Company
As a business owner, choosing the right commercial fence company is one of the most critical decisions you will make regarding your property's security and aesthetics. Not only do you need a company that understands your specific needs, but also one that has the expertise and experience to deliver quality workmanship at an affordable price.

Let's say you run a factory that processes hazardous chemicals. In such cases, safety is paramount. You can't afford to hire a fencing contractor who'll compromise on quality in the design and installation of your fence. The stakes are too high, and any faults or breaches could result in disaster.

When considering which company to work with, it's essential to examine past projects they've completed within your industry or that are similar to yours in scale and complexity. This will give you a clear indication of their level of competence and whether they can execute a job effectively.

As important as expertise is, it's not the only factor you want to be considered when deciding on a commercial fence company. Price competitiveness should also be part of the equation. However, it's important to remember that while low prices may seem attractive, they don't necessarily translate to quality workmanship or customer service.

With that said, let's dive into some factors that you should consider before choosing a commercial fence company.
Factors to Consider When Choosing
1. Expertise: As highlighted earlier, expertise is one of the most crucial considerations when choosing a commercial fence company. Only work with companies that have experience installing fences for properties similar in scale and complexity to yours.

2. Reputation: Look out for reviews and feedback from past clients online or by asking around locally. A good reputation is an indicator of quality irrespective of the size or scale of the project, insuring all clients receive consistent results from their fencing contractor.

3. Price competitiveness: A company that offers competitive pricing while still offering quality installations and customer service shows an incredible level of confidence in their workmanship and the skills of its team.

4. Materials: The materials used during installation play a considerable role in defining the fence's functionality, durability, and aesthetics, and should always be considered. Choose a company that has experience in installing the type of fence or material you want to use.

5. Customer service: Everyone wants prompt, polite, and responsive customer service when dealing with a vendor. Make sure you get excellent customer service from your commercial fence company.

6. Licenses and Permits: Fence installation in Texas has specific requirements for contractors regarding permits, compliance codes that must be followed, etc. Choose a contracting firm that understands regulatory requirements and covers these concerns.

Choosing a commercial fence company is like interviewing a potential employee – you're looking for a candidate who ticks all the boxes on your job description sheet. Only this time, your 'employee' will not only represent your brand to passerby's but also ensure the security of your physical assets. Thus, make sure you're selective enough when choosing your fencing contractor by doing extensive research and asking around.

Now that we have discussed what factors to consider when choosing a commercial fence company, let's dive deeper into available fencing options for businesses.
Types of Fences Available
When it comes to commercial fencing, there is no one-size-fits-all solution. Each business has unique needs and preferences that must be taken into consideration. Fortunately, there is a wide range of fence types available on the market that can meet most requirements.

One of the most popular types of commercial fences is vinyl. Vinyl fencing is durable, low-maintenance, and provides excellent privacy for businesses that require it. Additionally, it comes in a variety of colors, styles, and textures to suit any design preference.

Another popular option for commercial properties is wood fencing. Wood fences are attractive and complement many architectural styles. They can also be designed to provide privacy and security while adding natural warmth and beauty to the property. It's essential to note, however, that wood fences require regular maintenance to prevent rotting or termite damage.

For businesses with heavy-duty security needs or who want to protect valuable assets, steel perimeter fencing should be considered. Steel fences provide a high level of protection against intruders and vandals while ensuring maximum durability and resistance to the elements.

I once worked with a business owner who owned an industrial warehouse that stored expensive machinery and tools. Due to several attempted break-ins over the years, he decided it was time to install a high-security fence system around his property. After discussing his requirements and preferences thoroughly, we recommended a steel fence system designed with anti-climbing features that were nearly impossible for anyone unauthorized to breach. The business owner felt relieved and protected after installation.

In addition to steel fences, chain-link fences are another cost-effective option for businesses looking for sturdy protection at an affordable price point. Chain-link fences are known for their durability and ease of maintenance. They are highly configurable depending on the desired level of visibility and design aesthetic.

Some may argue that chain-link fences are not attractive. However, chain-link fencing comes in various heights and thicknesses used to achieve the desired view and style. There is the option of adding other coatings such as vinyl, which adds color and texture to the fence.

The type of commercial fence a business chooses depends on factors such as security needs, aesthetics, and budget. Next, let's explore three popular types of commercial fences: Chain-link, Steel, and Aluminum Fencing.
The global fencing market size was valued at USD 28.0 billion in 2020 and is expected to grow at a compound annual growth rate (CAGR) of 5.2% from 2021 to 2028.
In the United States, there are over 90,000 businesses operating in the fencing and building exterior contractors' industry, employing more than 345,000 people.
A report published by IBISWorld found that demand for the fence construction industry has increased over the five years leading to 2023 due to factors such as new housing construction and robust demand from nonresidential markets.
Chain-Link, Steel, and Aluminum Fencing
Chain-link fencing is an excellent option for many businesses because of its affordability and versatility. It is low maintenance, provides excellent security when fitted with barbed wire or anti-climbing features, and can be easily installed on any terrain type.

Steel fencing is a popular choice due to its high strength and durability. Steel fences do not warp or rot over time like wood fences. They also provide resistance against intruders trying to break into the property. An additional advantage of steel fencing is that it allows visibility while keeping your property secure from unwanted visitors.

Aluminum fencing is another durable option that is resistant to rust and corrosion, making it a great choice for those who live in coastal areas or urban locations. Additionally, aluminum requires minimum maintenance compared to wrought iron or steel fencing.

Choosing between chain-link, steel, and aluminum fencing styles is like choosing between a smartphone's operating system. Each Operating system serves the purpose of keeping smartphones organized and functions efficiently. Similarly, each commercial fence structure serves the purpose of providing safety by creating boundaries around businesses while ensuring privacy.

To ensure you're making the right decision when it comes to choosing perimeter fencing or designing custom fencing solutions for your business needs:

Consider which material type best fits your different requirements – Is it affordability? Or Security?

Think about what visual aesthetic design best complements your business?

Ensure that the fencing design fits within local zoning laws and neighborhood associations' guidelines.

With a full understanding of the different types of fences for commercial properties, the next topic will cover how to choose the right commercial fence company.
Custom Designs and Perimeter Fencing
If you're looking for a fence that provides an added layer of security while also contributing to the aesthetic appeal of your property, perimeter fencing is the perfect solution. Perimeter fences can be customized to fit any business's specific design needs. They can be designed to match your building's architecture or your brand's color palette, providing an elevated look for your commercial property.

Custom designs are suitable for businesses that have a specific style or image in mind. In this case, the commercial fence company must work with you every step of the way to achieve your desired result. A professional fence company can offer design services aimed at creating custom perimeter fencing solutions that cater to individual needs. Additionally, it's important to consider the long-term goals of the project before starting it, as custom designing increases cost thresholds and requires more time than standard fencing options.

Aside from aesthetics, custom designs are often preferred for their increased level of security compared to standard designs. With customization options like additional barbed wire and gates, any business owner can increase their property's security levels. Custom designs ensure that your perimeter fence will meet all specific functionality requirements.

One example of a great use-case for custom perimeter fencing is apartment complexes. These businesses typically require sturdy fences that combine added security measures and aesthetic flair. Apartment complexes could customize their fencing showcases with different intricacies, such as additional barbs on the top; customized numbering systems; and even keyless entry mechanisms for better oversight.

Perimeter fencing can also provide privacy to businesses such as car dealerships or storage facilities. Customized fences in these cases could have high-density materials encasing them or integrated solar paneling systems that power specialty equipment or essential lighting.

Essentially, perimeter fencing should be designed to meet both common criteria such as longevity and durability but should also emphasize design innovation leading to aesthetic appeal and added security.

Perimeter fencing is an essential aspect of commercial security measures since it provides a boundary and additional security controls to determine who enters your property. By customizing, businesses can add a layer of sophistication by detail such as curves, colors, and varying heights to show a step above the standard fare fence solutions.

In essence, the importance of commercial perimeter fencing cannot be overstated. From boosting visual appeal to providing enhanced security measures, it is crucial that businesses take the time to consider their options carefully before making an informed purchasing decision.
Design and Installation Services
Professional design and installation services are among the most important factors to consider when seeking a commercial fence company. The right team will ensure that your fencing solution is installed correctly, within budget, on time, and in compliance with all local zoning ordinances and requirements.

The first thing you should look out for when choosing a company for your business needs is their experience in the industry. A well-established company with a team of seasoned professionals at its helm will have the expertise necessary to tailor solutions that meet every individual requirement. They will also know what potential pitfalls to avoid during the installation process which includes any needed permits or licensing requirements for your specific area or region.

Another factor to keep in mind is the company's reputation in their field. Look online for client reviews, testimonials, and social media engagement rates. These give you insights about how clients felt about the company's services and if they would recommend them.

When analyzing offers from different companies, make sure that they go into details concerning timelines as well as quotations. The proposal should be comprehensive, giving clients detailed plans of how things will proceed from the very beginning to the completion date. Professional companies are clear in communication when explaining all details regarding delivery timelines and any delays that may occur.

An example scenario that showcases excellent design and installations skills could be retail-based companies installing high metal barriers designed with intricate patio railings but seamlessly integrated with intricate access gates. The fencing solutions in these scenarios are both secure and upscale in appearance, and they mirror the high-end exterior appearance of the brand.

Proper installation ensures not only that your fence won't topple over or be damaged during challenging weather conditions but is also designed to cater to any legal requirements in terms of height, distance from neighboring businesses, zoning ordinances, or easements.

Moreover, a professional fence company addresses all aspects of design before starting on the project. They conduct site assessments and supply drawings and 3D models to give clients a clear understanding of where the fencing solution will be placed within their premises.

Ultimately, proper planning and installation by an experienced fencing company could lead to significant cost savings while enhancing property value and security levels. It's important to take the time needed when evaluating offers for excellent design and installation services when selecting the right commercial fence company for your business needs.
Addressing Security Features and Needs
When it comes to commercial fences, security is often a top priority. Choosing the right fence company can mean the difference between a secure perimeter and one that leaves your business vulnerable to intruders. Here are some factors to consider when addressing security features and needs in your commercial fence:

First and foremost, consider the level of security you need for your business. A chain-link fence might be sufficient for a small retail store, but a warehouse with valuable inventory might require something more substantial like a steel or aluminum fence with additional features such as barbed wire or anti-climb measures.

Another factor to consider is the quality of materials used in the fence's construction. A sturdy fence made with quality materials will not only last longer but also deter potential intruders who may be looking for an easy target.

Some businesses may opt for perimeter fencing to secure their entire property rather than just a specific area. While this approach can provide added security, it's important to weigh the cost versus benefit ratio carefully. Perimeter fencing can be expensive, so weighing the potential benefits compared to the investment required is essential.

Think of your commercial fence as an investment in your business's security and safety. Just as you wouldn't skimp on fire sprinklers or alarm systems, investing in a high-quality commercial fence should be viewed similarly.

Additionally, consider any special features that may be necessary for your business's specific security needs. For example, if your business deals with hazardous materials, you may need a fence designed to prevent unauthorized access while still allowing emergency personnel quick access if necessary.

When selecting a commercial fence company, it's important to find one that specializes in commercial fencing and has experience with various types of commercial properties. Look for a company that can provide customized solutions that meet your specific security needs and can guide you through the entire process, including design, installation, and ongoing maintenance. By taking the time to choose the right fence company for your business needs, you can ensure that your investment in security pays off for years to come.