Fence Installation Houston – Best Professional Fencing Installed Today!
Imagine your dream home: The perfect blend of style, safety, and privacy. However, do you see it sporting a stunning fence that completes the picture? In Houston, fence installation is more than just an aesthetic feature – it's an investment in security and well-being for your family. This is where professional fencing comes in; gone are the days of DIY fence projects. With Fence Installation Houston, expect high-quality fencing, tailor-made to suit your needs and impeccably installed to stand the test of time. Discover why our experts should be your first call when considering that essential addition to your beautiful home!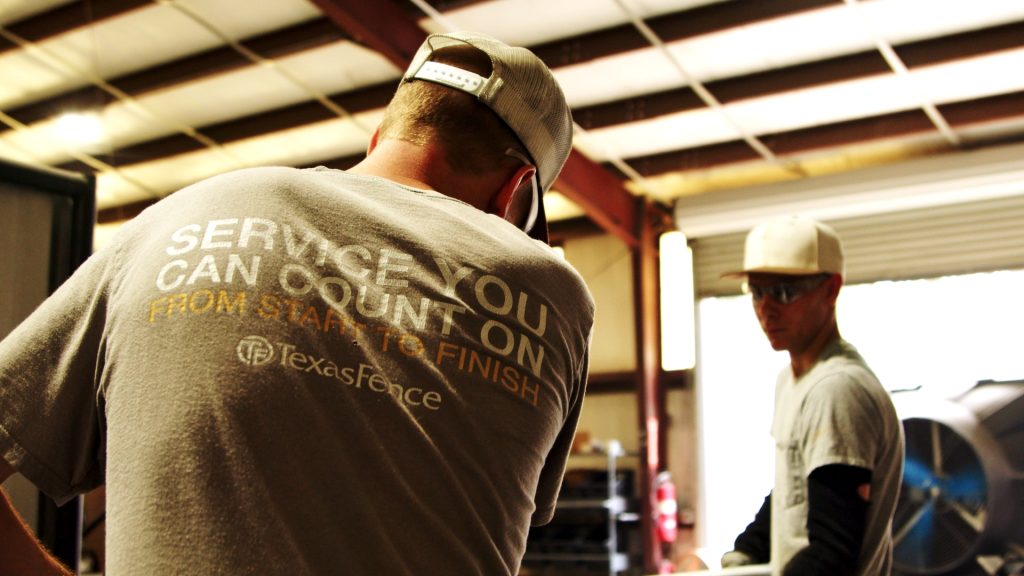 Top Fencing Types for Houston Properties
Choosing the right type of fence for your Houston property can be a daunting task. From the material to the height, there are several factors to consider before making a final decision. Here are some of the top fencing types for Houston properties to help you make an informed choice.

Wood or PVC Fencing: If you're looking for a traditional and classic look, wood or PVC fencing is an excellent option. These types of fences are available in various styles and finishes, allowing you to easily tailor them to your home's design and architecture. Moreover, they offer privacy and security while also adding aesthetic appeal to your property. Wood fences are available in many different wood types such as cedar, pine, spruce, redwood, etc.

Chain-link Fencing: Chain-link fencing is another popular choice for Houston properties, especially for those who want an affordable and low-maintenance option. They are great at keeping pets in and unwanted visitors out. However, they do not offer much privacy or aesthetic appeal. Nonetheless, they're durable and last long.

Iron or Aluminum Fencing: If you're looking for a more elegant fence option that also offers heightened security, iron or aluminum fencing might be the perfect choice for you. With its ornamental detailing, this type of fence can add value to your property while still providing protection. Iron gate options come in manually swinging or sliding gates.

HardiePlank Fencing: HardiePlank is a newer material becoming increasingly more popular as it is strong enough to replace chain-link fences without sacrificing aesthetics. However, it might not be suitable if you live in areas with extreme weather conditions such as hurricanes.

Vinyl Fencing: Vinyl fencing is an alternative popular for its durability compared to other materials such as wood and chain-links, as they can wear out faster than vinyl. However, it is not as aesthetically pleasing as wood fencing. Vinyl fence options come in a mostly white option for the modern look or Bufftech for a more natural look.
Chain-link Fencing
Chain-link fences are made of interwoven wires that create a diamond pattern and are another popular choice amongst Houstonians. They offer transparency while offering an unobstructed view of your property, making them ideal for commercial and residential properties alike. Texas Fence can handle all types of fence installation Houston needs.

Moreover, these fences require minimal maintenance, are cost-effective compared to other fencing materials, and have high durability against Houston weather.

Chain-link fences come in different heights to accommodate any client's needs. They vary from 3-foot to 12-foot-high options. There is also an array of colors to choose from.

Though chain-links tolerate rough weather well, they do corrode over time like any material. Additionally, while this type of fence offers some protection, it does not offer much privacy. For those looking to increase privacy with their chain-links fence should consider lattice work.

Now that we've gone over chain-links fencing let's look at the expert fence installation services provided by Texas Fence for any residents looking to install fences on their property!
Wood or PVC Fencing
One of the most popular materials for fencing is wood. Wood fences not only provide privacy and security, but they also add an aesthetic appeal to your property. Wood fences are affordable, and there are many options to choose from when it comes to style.

For example, if you're looking for a modern look, horizontal wood slats are a great contemporary design choice. On the other hand, if you prefer a classic look, picket fences or ranch rail fences made of wood are great options.

But while wood fencing may be popular, it has some downsides. One disadvantage is that it requires maintenance and can rot or warp over time. Fortunately, PVC fencing is increasingly becoming an attractive option for fence installation.

PVC fencing is also known as vinyl fencing. It offers similar benefits to wood fences but with much less maintenance required. If you're looking for a fence that won't need repainting or staining over time and doesn't require annual sealant application, consider installing a PVC fence instead of a traditional wooden one.

Think about how you would compare car ownership to having a fence on your property; like cars have varying levels of upkeep needs depending on their build quality and features (e.g., leather seats), different types of fences will vary in terms of necessary care.

Installation is also relatively easy for both types of fences. In fact, many people choose to install their own vinyl fencing because it comes in pre-made sections and just requires multiple pieces being put together. While wood fencing can be more hands-on when putting up posts or panels, it's certainly something any good contractor can make quick work of.

If you prefer the look of natural wood grain over synthetic materials and don't mind regular maintenance, wooden fencing might be the way to go. But if you want something that looks clean and neat without much hassle, consider installing a PVC fence.

PVC fencing is also resistant to harsh weather conditions, such as the strong Texas sun or occasional windy spells that threaten to tear down weaker fences. It's also resistant to pests and doesn't burn easily, making it an excellent choice for families looking for more safety and security.

One of the biggest perks of PVC fencing is its durability over time. Given that it won't need repainting or annual sealing like traditional wood fences, you can expect it to last a long time without major repairs. And if a section of the fence needs to be replaced, that's no problem since PVC fencing comes in pre-made sections.
According to the U.S. Census Bureau, there were approximately 989,600 single-family homes in the Houston metropolitan area as of 2020, indicating a significant market for fencing installation and maintenance services.
A 2019 market research report on fencing in the United States estimated that the fencing industry's annual growth is expected to be around 2.9% from 2019 to 2024.
The same market research report also noted that wood and metal fences account for more than 75% of the total fencing demand in the United States, which emphasizes that these materials are predominantly utilized by Houston-based fencing companies like Texas Fence.
Expert Fence Installation Houston Services
At Texas Fence, we are dedicated to providing our customers with high-quality fencing designs and installations at competitive prices. We offer expert fence installation services in Houston, serving both residential and commercial properties.

Our skilled contractors use only quality materials when installing fences, ensuring that your new fence will withstand any harsh weather conditions common in Houston. We work with materials such as wood, PVC/vinyl, chain-link, brick and stone—with each type having its benefits depending on your specific needs.

For example, commercial properties might require more durable metal fences with custom security gates to help reduce crime rates. Our experience working with large commercial projects means we understand how bandwidth-intensive these installations can be and always work efficiently to get jobs done on time without cutting corners on quality.

Our team members have years of experience in fence design and construction and provide unparalleled customer service from start to finish. We'll be there every step of the way, from discussing design options with you to completing installation on time and on budget.

If you're considering DIY fence installation, keep in mind that while some types of fences are simple enough for homeowners to install themselves,

others can result in unexpected expenses down the line because they weren't properly installed the first time. For example, a leaning fence might end up costing you more than just having it installed professionally in the first place.

By choosing to work with professional fence contractors, you can be sure that your fence is built to last, and the installation process will go smoothly.
Quality Materials and Skilled Contractors
At Texas Fence, we pride ourselves on providing expert fence installation services in Houston. One of the key factors that sets us apart from other fence contractors is our commitment to using only the highest quality materials and employing skilled contractors.

When it comes to fencing materials, we work with a variety of options to suit your specific needs. We offer wood fences for a traditional look, PVC fences for durability and easy maintenance, chain-link fences for affordability, and iron or aluminum fences for maximum security.

Our skilled contractors have years of experience working with these materials, and they have honed their craft through training and hands-on experience. They understand the nuances of each material and are able to build fences that meet your exact specifications while also ensuring long-lasting durability.

In addition to excellent workmanship, we source only the highest quality materials from trusted suppliers in the industry. This means that you can enjoy peace of mind knowing that your fence is being built with the best possible materials available.

For example, when installing wooden fences, we use only high-grade lumber that has been treated to resist rot, decay, and insect damage. This ensures that your fence will stand up to harsh weather conditions and remain sturdy for years to come.

Our commitment to using quality materials not only means that your fence will last longer but also results in a fence with superior aesthetics. By using premium wood, your fence will maintain its color and texture over time which leads to low maintenance costs.

While there may be cheaper fencing options out there, choosing lower quality materials may result in cracks or even breakage along panels under heavy winds or potential outside forces such as storms or accidents caused by trees or other objects hitting the fence.
Customizing Fence Height for Your Needs
One of the many benefits of working with Texas Fence is that we offer full customization options when it comes to fence height. Depending on your specific needs, we can adjust the height of your fence to provide additional privacy, security, or aesthetic appeal.

For example, if you have a pool in your backyard and want to ensure maximum privacy, we can install a tall wooden fence around your property. Alternatively, if you simply want to add a touch of elegance to your front yard, a shorter wrought iron or aluminum fence may be more appropriate.

No matter what your specific needs are, our experienced contractors are able to help guide you through the process and recommend the best option for your situation. We understand that every homeowner has unique preferences and priorities when it comes to their fencing needs, and we are dedicated to helping you achieve exactly what you're looking for.

For instance, some homeowners choose higher chain-link fences for its affordability and versatility while also prioritizing security. A property owner in a suburban area with a lot of children running around could also choose vinyl fences securing their kids within the perimeter.

By customizing the height of your fence according to your specific needs and preferences, you can ensure that it not only meets all functional requirements but also enhances the overall appearance of your property. With Texas Fence, you can rest assured that we will work closely with you throughout each stage of the project to ensure that everything remains on track and within budget.

While adding an "extra" foot might mean additional costs added on top of what was already defined in the initial quote – this decision might save repair costs down the line because they prevent climbing over at least one side. Therefore, discussing beforehand before coming up with a final decision is important.

Now that you have a better understanding of how we customize the height of your fence to meet your specific needs, let's talk more about security and privacy considerations in Houston fence installation.
Security and Privacy Considerations in Houston Fence Installation
When installing a fence, security and privacy are top considerations for most homeowners in Houston. Whether it's to prevent neighborhood pets from entering the yard or to keep intruders out, the right fencing can provide the necessary sense of security and privacy that many homeowners desire. Here are some things to consider when choosing a fence for your Houston property.

For those concerned about privacy, wood fencing is an excellent option as it provides a solid barrier and can be built up to eight feet tall. PVC fencing is another popular choice for homeowners in search of both security and privacy. PVC fencing offers the same level of privacy as wood, but with less maintenance required.

In addition to privacy concerns, security is also of paramount importance. One way to increase security is by investing in durable materials that will keep potential intruders at bay. Chain-link fencing, while providing little privacy, is an excellent choice for those looking to secure their property without breaking the bank.

However, some homeowners may be hesitant when it comes to chain-link fencing because of its industrial look and feel. In such cases, wrought iron fences may be a more attractive option since they not only offer increased security, but also add beauty and elegance to any property.

Just as important as choosing the right materials for your fence is selecting the right gate system. The gate should match the style of your fence and home while being easy to operate for you and any visitors. Think of it this way – your gate is like the front door to your house; you want it to match the overall aesthetic while providing peace of mind.

Another consideration when it comes to security and privacy is lighting. Installing exterior lights around the perimeter of a fenced-in area can deter potential intruders while also keeping you safe when moving around the yard at night.

In conclusion, when it comes to security and privacy in fence installation Houston, it's essential to consider materials, gate systems, and lighting. Choose materials that provide the level of privacy and security you require while also considering the aesthetic appeal. A fence is an investment in both your property value and family's safety, so take the time to choose wisely.