Find a Fence Builder Near You: Local Fencing Installation Services
Are you tired of chasing after your mischievous puppy as they gleefully escape through the open yard? Or do you need a boundary that provides both security and elegance to elevate the appeal of your property? No matter what your fencing needs may be, finding the perfect fence builder near you is crucial, and we are here to help. Read on, as we reveal the secrets to selecting local fencing installation services that will transform your outdoor space into a secure haven without breaking the bank.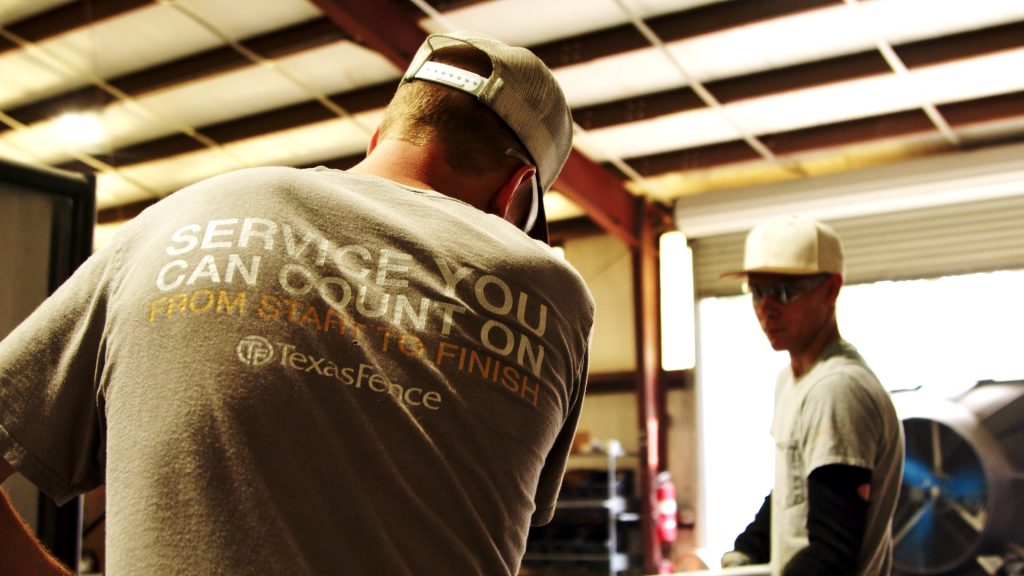 Finding a Fence Builder Near Me
If you're in the market for a new fence, one of the first steps is to find a fence builder near you. The process may seem daunting, but it doesn't have to be difficult. One way to start is by asking friends and family members who have recently had fences installed if they can recommend any local businesses. You can also do a quick online search using keywords such as "fence builders in my area" or check with your local Better Business Bureau for referrals.

An important factor to keep in mind when finding a fence builder near you is ensuring that they are licensed and insured. Working with an unlicensed contractor could result in poor workmanship, voided warranties, and other legal issues. In addition, finding a contractor who is bonded and insured can offer you added protection in case something goes wrong during the installation.

Consider choosing a company like Texas Fence that has been in business for many years and has a strong reputation within your community. These companies have usually worked with various clients, and their experience can benefit you by getting high-quality craftsmanship for your fence.

In Harris County where we are located, contractors are required to have proper licensing before working on any homes or properties. It's crucial to make sure that the contractor's license number matches with what appears on the Texas Department of Licensing and Regulation's website or other regulatory governance sites.
Contact Local Businesses for Quotes
When looking for quotes from local fencing businesses, it's important to ask about fees upfront since they range depending on factors like materials used, fence style preference, and current ground condition of the property. During this stage don't hesitate to ask as many questions as necessary before agreeing on a quote, so that all parties can avoid misunderstandings down the road.

Requesting quotes from multiple companies will give you a range of prices and options to make an informed decision. Make sure the available quotes include details such as materials used, estimated project duration, warranty, and terms of payment.

Seeking offers from different fencing contractors is vital since comparison shopping allows you to avoid overspending and ensure that certain commitments or tasks are detailed out.

We have had customers come to us after their original contractor was unable to complete the job due to a lack of funds. They end up spending more than they initially agreed for, and the risks of quality workmanship tend to be higher when finances become tight.

Some homeowners might choose the lowest quote without confirming with the company's quality of services. While this can save some cash in the short term, cheap installation costs could result in shoddy work done or incomplete projects due to contractors cutting corners to save money. Paying a little extra for quality craftsmanship will pay off over time when it comes to keeping your fence properly maintained and long-lasting.

With these steps in mind, finding a fence builder near you can be a painless process."
When looking for local fencing businesses, it's essential to get quotes from multiple companies and ask upfront about fees, materials used, estimated project duration, warranty, and terms of payment. Comparison shopping will help avoid overspending and ensure specific commitments or tasks are detailed out. Additionally, homeowners should not choose the lowest quote without confirming the quality of services since cheap installation costs could result in shoddy work and incomplete projects. Paying a little extra for quality craftsmanship will pay off over time when it comes to keeping your fence properly maintained and long-lasting.
Qualities to Look for in a Fence Builder
When it comes to selecting the right fence builder for your needs, there are certain qualities you should be on the lookout for. The first is experience – a fence builder should have years of experience under their belt and an impressive portfolio to showcase their work.

Secondly, look for a company that offers customizable options in terms of materials and styles. A good fence builder will offer several different types of fences to suit your needs and preferences. Make sure to ask about the type of materials that they use, as well as the pros and cons of each option.

Thirdly, a good fence builder should provide excellent communication throughout the entire process of building your fence. They should answer all of your questions promptly and thoroughly, and keep you updated on the progress of your project.

Finally, a reputable fence builder will always stand behind their work with warranties, guarantees, or after-sales service. Look for a company that has plenty of positive reviews from satisfied customers to ensure that you are getting the best possible service.

For example, Texas Fence is a highly recommended fencing installation service with many years of experience under their belt. They have a team of professionals who prioritize clear communication with customers and pay attention to even the smallest details.

Additionally, Texas Fence provides an extensive range of materials for custom-built fences and gates. Customers can select from a variety of options such as wood, vinyl, stone, hardiplank, iron, aluminum, and chain link.

While some people may be tempted to try DIY fencing installation projects to save money Unfortunately, inexperienced homeowners may encounter issues such as incorrect measurements or placement leading to added expenses down the road if repairs or completely new installations are necessary.


Professionalism and Quality Services
A good fence builder should maintain a high level of professionalism from start to finish when working on any project. From the initial consultation to the final touches on your fence, they should provide top-notch customer service and communicate effectively.

Professionalism also means that the installation team will arrive on time, work efficiently, and clean up after themselves. A good fence builder will work to minimize any disruption or mess during the installation process.

Another important aspect of professionalism is quality services. A reputable fence builder will use only high-quality materials, ensuring that your fence stands up to weather and wear over time. They will also take care of permits and any regulations required by local municipalities.

Finally, professionalism means that a fence builder takes pride in their work and offers guarantees or warranties for their services. This ensures that you are getting a quality product that has been installed correctly and to your satisfaction.

At Texas Fence, we take pride in our professionalism and quality services. We offer competitive financing options with no money down and no interest for 18 months based on approved credit. Our team always arrives on time and cleans up after themselves, so you don't have to worry about a messy yard or driveway.

Additionally, we only use the highest quality materials for all of our fences and gates. And to keep our customers happy, we offer warranties on all installations as well as after-sales service should any issues arise.

While some may be tempted to go with a cheaper, less experienced company, this often results in shoddy workmanship and low-quality materials which leads to costly repairs down the road.


Options for Custom Fences
When it comes to fencing your property, you don't want to settle for a cookie-cutter design that doesn't fit the aesthetic of your home. That's where custom fences come in. A good local fencing installation service will offer the option to customize your fence according to your specific needs and preferences.

For instance, if you have an odd-shaped lot or a challenging terrain, a skilled fence builder can create a fence that contours to the natural landscape of your yard. Custom fences can also be designed with specific functions in mind, such as privacy screening or security features. You may also decide to add special decorative elements like arches, lattice work, or other design details.

The benefit of custom fences is that they add value and uniqueness to your property since they are tailored exactly to your specifications. Careful consideration is taken by professional fence builders to ensure that the fence complements your home's architecture and outdoor style. Moreover, custom fences are made to last and built with high-quality materials and superior craftsmanship.

Think about it this way: a custom fence is like having a tailor-made suit compared to buying something off the rack. Sure, both options will provide clothes on your body, but a bespoke suit will always look and fit better because it's made exclusively for you. The same principle applies when building a custom fence – it's uniquely crafted for your property and enhances its visual appeal.


Different Materials and Styles Available
The type of material you choose for your fence can impact its durability, maintenance needs, cost, and overall appearance on your property. Here are some popular materials and styles that you might consider:

Wood Fences: Wood is a traditional, rustic choice for fencing that provides a warm, natural look and feel perfect for most property designs. Wood fences require regular maintenance such as staining, sealing, and occasional repairs, but can last up to 20 years with proper care.

Vinyl Fences: Vinyl is a low-maintenance option that is easy to clean and durable. Vinyl fences are weather-resistant and do not rot or warp over time. They also come in various colors and styles, making them a versatile choice for any property. A well-installed vinyl fence can last up to 30 years or more.

Iron Fences: Iron fencing provides an ornate, timeless design that evokes the charm of old-world architecture. While iron fences are beautiful, they require more maintenance than other materials because they can rust over time. They can also be expensive compared to other fence types.

Chain-Link Fences: Chain-link fences are an affordable and practical option for commercial properties and recreational areas like sports fields or parks. They do not offer much privacy but provide excellent security and function. These fences require little maintenance other than occasional cleaning.

As you can see, there are many options available when it comes to choosing the material and style of your fence. By working with a reputable local fencing installation service like Texas Fence, you can rest assured that you will receive personalized attention to help you make an informed decision about your fencing needs.
Cost of Installation and Services Offered
One of the most important factors when selecting a fence builder is cost. As a homeowner or business owner, you want to know that you're getting high-quality service at an affordable price. The cost of fence installation varies depending on the size of the project, materials used, and any additional services required. It's important to do your research and shop around to find the best deal for your budget.

A good example of how different contractors can quote varying prices is by looking at two quotes for a simple picket fence. Contractor A may charge $15 per linear foot while contractor B charges $20 per linear foot. At first glance, it seems like Contractor A is the better option. However, when you take into consideration that Contractor B offers a five-year warranty on their workmanship compared to Contractor A's one-year warranty, it may be worth paying the extra $5 per foot for the long-term benefits.

It's essential to understand that the cheapest option may not always be the best option. It's crucial to remember that you get what you pay for in terms of quality service and materials. Selecting a fence builder solely based on price could lead to shoddy workmanship or using low-quality materials that require frequent repairs or replacement.

When it comes to services offered, it's important to consider the range of services offered by a particular fencing company. Look beyond just installation services; some companies offer additional services such as staining and sealing, repair work, or even financing options. Choosing a fence builder that provides these additional services can save time and money in the long run by reducing maintenance costs and increasing the lifespan of your fence.

Some fence builders may have hidden fees that they fail to disclose upfront. When seeking quotes from local businesses, ensure that they provide an itemized breakdown of all associated costs. Some builders may include additional charges for soil preparation, permits or even delivery fees if you purchase materials through them. It's important to read the fine print and ask questions when in doubt.

Think of your fence as an investment in your property. It adds value and security while defining boundaries and aesthetics. Like any investment, it's important to research before selecting a fence builder. Take the time to do your due diligence by asking for references, reading online reviews, and comparing quotes from multiple providers. In the end, choosing a reputable and experienced fencing company that provides high-quality products and services can make all the difference.

Overall, selecting a fence builder should be a thought-out process that takes into consideration the cost of installation, services offered as well as professionalism and quality of workmanship. Do not compromise on quality just because of pricing as it might end up being costly in the long run. Consider these factors when making your final decision and ensure that you select the best option for both your budget and needs.