Backyard Red Cedar Fences: The Benefits and How to Install Them
Has your house been feeling a little exposed lately? Are you looking for a way to add some privacy to your backyard without taking away from the charm of the property? If you answered yes to these questions, then have no fear: a red cedar fence may be the solution for you!

Red cedar fences have been around for centuries, both for ornamental and practical purposes. From a beautiful, rustic charm to premium rot-resistance, red cedar fences offer a multitude of benefits that are sure to make any homeowner happy. In today's blog post, we'll be discussing the advantages of red cedar fences and how to install them. So, if you're thinking of adding a new fence to the backyard, prepare to get your tools ready – we're about to talk cedar!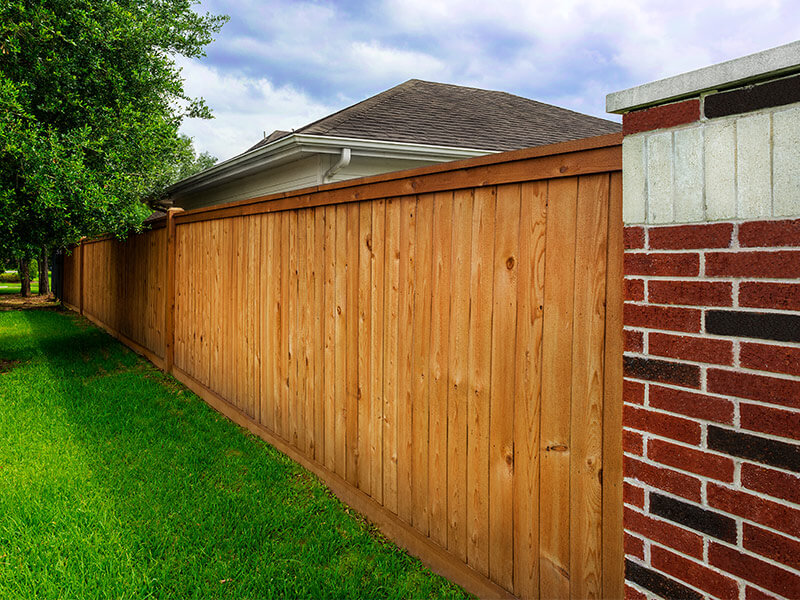 Why Red Cedar Fences are a Smart Choice for Your Backyard
When it comes to fencing options for your backyard, red cedar is one of the most popular choices due to its durability, cost-efficiency and natural beauty. Many homeowners choose red cedar over other materials not only because of its longevity but also for its low maintenance need and the fact that it has a natural resistance to pests such as termites, enabling it to last longer than many other materials. It can be purchased in pre-made panels or pickets, providing great flexibility when designing your landscape.

The benefits of installing a red cedar fence stretch beyond its good looks and durability alone. As cedar ages, it silver grays beautifully and requires little to no maintenance, making it a great choice for homeowners who are looking for aesthetic value without a lot of upkeep. Furthermore, while red cedar may come with an upfront cost premium when compared to alternative materials like Composite or Vinyl, you get what you pay for: a fence that stands the test of time and looks great doing it.

The decision to choose red cedar fencing should depend on your budget, area climate and personal preference. But if you're after a beautiful fence that will last for years to come without costing you a fortune or requiring too much maintenance then red cedar fences might be the perfect choice for your backyard. 
The Benefits of Choosing Cedar Fences
Choosing the right fence for your backyard is an important decision. Red cedar fences offer several benefits that make them a smart choice for your outdoor space. Cedar fences resist UV damage, require less maintenance than other wood types, and provide excellent privacy. Additionally, they provide natural insulation, meaning they can keep your yard cooler in the summer and warmer in the winter.

The durability of red cedar fences is another key benefit. As long as you treat it correctly and don't expose it to harsh elements, the fence will last for many years to come without requiring regular repairs or replacements. This makes red cedar fences an economically savvy solution for your property.

Finally, there is solid evidence that suggests that wood fences improve curb appeal and raise the value of properties by making them appear more attractive and inviting. While this might not be at the top of everyone's priority list when considering backyard fencing solutions, it is a nice fringe benefit that should not be discounted.

Red cedar fences may not always be the best choice for every situation; however, there are numerous benefits that make them an extremely attractive fence option. 
Choosing the Right Red Cedar Fence Company
Now that you're aware of the many benefits that come with choosing red cedar fences, it's time to consider who will be constructing and/or installing them. Selecting a quality fence company is essential if you want your backyard structure to look incredible and last for years to come. While there are undoubtedly many professional organizations available for your needs, the task of identifying and selecting the right contractor for your home project may seem daunting.

On the one hand, evaluating a local red cedar fence provider can help you achieve better results from start to completion. Their experience, education, and portfolio can give real-time evidence that they are capable of providing first-rate materials and services. The availability of customer reviews also gives you insight into their reputation before hiring them – take advantage of this invaluable source of information. However, it is also important to keep cost in mind as not all fencing companies fit into everyone's budget. Prioritizing quality over quantity should be the goal when looking for a lasting investment in the security and appearance of your property.

With careful consideration given to each potential contractor, selecting the right red cedar fence company can be done without sacrificing quality or relying on guesswork. Given all you have learned about these magnificent red cedar fences and their many benefits, you can now confidently make an informed decision on who will best suit your unique needs while creating a secure but beautiful backdrop for your home.

Tips for Selecting a Professional Contractor
When selecting a professional contractor for red cedar fences installation, it's important that you take the time to find the right one for you. The best way to do this is to get recommendations from people you trust and to interview multiple contractors before making your final decision. It is also essential to ask the right questions including: Are they licensed and insured? What kind of guarantees or warranties do they offer? Have they worked with red cedar fences before? And how long will the job take?

There are different perspectives on using a local fence contractor versus an online one. Locally owned companies may be more knowledgeable about local rules and permit requirements but lack access to specialized materials that can be found through online vendors. On the other hand, while online companies often provide cost savings through their large buying power and virtual presence, some customers might have reservations about reliability and quality assurance.

Ultimately, it is up to you to decide which option works best for you depending on your needs, budget, and location. It's important that you research any potential contractors beforehand and get several bids to make a well-informed decision about who will be doing the job. With the right contractor selected, you'll have peace of mind knowing you have taken necessary steps to ensure a quality finished project.

Options and Styles for Red Cedar Fences
The options and styles available to homeowners when selecting a red cedar fence can be overwhelming. The key to finding the right style is understanding your home's architecture and outdoor living space. Many people opt for traditional picket fences, which are available with flat-top, pointed, or paneled tops in varying heights. For something more ornate, homeowners might consider lattice, tongue-and-groove, or board-on-board designs. Furthermore, many red cedar fence types come pre-stained in a variety of colors, eliminating the need for extra maintenance on the homeowner's part. If a unique and eye-catching look is desired, mixing various wood textures and patterns can really bring together an outdoor living space.

When selecting a style that best fits you and your home's outdoor area, it is important to consider both aesthetic appeal as well as practicality. Should privacy from nosy neighbors be desired? If so, opting for solid panels such as board-on-board fencing will ensure greater seclusion from prying eyes. On the other hand, if creating a decorative bordering around your yard is what you're after, go for something like a traditional picket design with minimal height between each picket. Both options offer their own set of benefits and drawbacks that should be thoroughly considered before installation begins.

While researching different fence options certainly helps narrow down your choices, there is no substitute for professional recommendation – especially if the contractor has already worked in your particular area and is familiar with local regulations. For example, some neighborhoods might require a certain height or aesthetics for fences because of building codes or homeowner association regulations. Selecting the largest panel size available might not actually fit into the larger neighborhood lifestyle and consequently limit future resell opportunities of your property in certain areas. Thus, selecting an experienced contractor who specializes in building fences with red cedar might also give you peace of mind knowing that they have taken local regulations into account when crafting custom designs specifically suited to your needs and wants.

Once you've made all of the necessary decisions regarding what type of style best fits you and your environment, then it's time to explore further options pertaining to materials and designs which are suitable to achieve what you desire out of your new red cedar fence installation – whether it be privacy or aesthetic appeal.
Selection of Materials and Designs
Expertly designed and constructed red cedar fences offer a wide range of benefits and aesthetically pleasing styles, but to take full advantage of these benefits, careful consideration must be taken when selecting the best materials and designs for your specific needs. Materials such as the grades of wood, steel posts, hardware, and even the type of soil present in your backyard all play a significant role in determining the success of your fence.

The grade of wood selected is crucial when choosing a red cedar fence. For instance, construction grade red cedar is a popular choice because it is less expensive than its counterpart, clear grade cedar. Although construction grade has more knots and imperfections than clear grade, it still contains the preservatives needed to increase longevity. Depending on budget and desired outcome one should decide which grade is best suited to their needs.

Early on in the construction process post sizes need to be determined. Posts are the foundation that will determine how sturdy the fence will be over time. Steel posts offer superior strength and provide better protection against warping due to exposure to weather conditions. Installers must also ensure they have chosen appropriate hardware such as nails or screws depending on size and weight of fence panels being used; this will help decrease any unforeseeable issues from occurring during installation or down the line with continued use.

In addition, soil composition must be considered when selecting materials for installation. Highly saturated soils require posts that are pressure-treated or galvanized otherwise posts may rot soon after installation due to ground moisture levels.

All these considerations make it extremely important when selecting materials and designing a red cedar fence take into consideration maintenance requirements, initial cost, longevity, aesthetics, and overall functionality before beginning installation. Many homeowners will find these decisions relatively easy when following instructions provided by their local fencing contractor; however DIY installers should conduct extensive research prior to beginning the project in order to achieve the desired outcome of their red cedar fence installation experience.

Consequentially, proper selection of materials coupled with correct design decisions can dramatically increase the durability and longevity of your new red cedar fence allowing you to enjoy optimal protection for many years to come; however proper care and maintenance must also be taken into consideration for long-term success with your investment in a new backyard fence.
Maintenance and Protection of Red Cedar Fences
Once your red cedar fence is installed, it will require upkeep to uphold its quality. It's important that homeowners take the necessary steps to protect their red cedar fences from damage from storms or harsh weather, as well as pests or insects that may try to make a home within their fence. While some suggest applying heavy sealants and waterproof coatings on red cedar fences, many within the lumber industry refrain from doing so due to its natural protective qualities.

Red cedar wood is naturally more rot-resistant and less likely to be attacked by bugs than many other types of wood materials like pine or fir. Even when left unfinished and untreated, red cedar stands up well against all forms of weathering including wind, rain and snow which climate of regions is known for. That said, a benefit of sealing it is that it can further extend the lifespan of the fence, however this would require additional maintenance each year where a homeowner would need to reapply the sealant or coating depending on your local weather conditions.

Every couple years, it's important to do an inspection of your red cedar fence in order to ensure no areas are rotting away, or insect infestations have taken root during certain seasons. Keeping up with regular check-ups allows homeowners to ensure any maintenance or tender loving care can be done before any major damage occurs and problems arise. Having a sealed red cedar fence makes repairs easier should something happen over time because sealants provide a barrier between the wood and outside elements.

The opinion remains split on whether or not to use sealants on red cedar fences due to its durable properties when left untreated. Homeowners must weigh out their own preference and imagine what they hope their backyard fence will look and feel like after future years of wear-and-tear and possible changes in climate.

For those who do choose the route of using sealants or waterproof coatings, it's especially important to keep up with routine maintenance such as re-staining every 2-3 years for example in order for the extra protection to remain effective and maintain their prized backyard fence properly.
Staining and Coating Options for Red Cedar Fences
Staining and coating options for red cedar fences vary greatly according to the homeowner's tastes and preferences. While some will opt to keep their fences natural in color and without a finish, many prefer to stain or coat their fences. When deciding between these two options, there are several considerations a homeowner must consider, including the desired opacity of the fence, the expected lifespan of the material, and the initial cost upfront.

Staining is a surface treatment applied to wood that typically involves applying a pigmented oil or water-based liquid to the surface of the fence. Stains penetrate into the wood for greater protection against moisture and UV sunlight damage, but generally offer a clear or semi-transparent look depending on the desired intensity. Stains usually require reapplication every 2 to 3 years, but often contain an algae resistor which will help lengthen their lifespan before needing a fresh coat.

On the other hand, coatings provide colored finishes on top of surfaces for more vibrant colors and better protection from UV rays. These come either in oil-based or latex formulas that can be applied by brushing or spraying onto the fence, although proper ventilation is necessary when using an oil-based formula due to its strong odor. Despite its more extensive protective qualities over staining, coatings need to be replaced more often at approximately once per year due to their lesser durability against wider weathering factors like rain and snow.

In addition, staining can be slightly cheaper up front than coating due to less supplies being purchased for application purposes; however, due to coatings far superior protection capabilities, aggregate costs may be lower if taken into account that coatings need replacing less often than stains. Furthermore, while stains are generally easier and faster to apply along with requiring less maintenance overall than a coating would, they still ultimately provide less protection from long term wear and tear that a quality coating would provide – making it worth debating which of these two staining and coating methods would best suit one's own red cedar fence needs in order for it to remain as beautiful and sturdy as possible for many years down the line no matter what budget is set aside for these treatments.