10 Cool Summer Fence Ideas to Transform Your Backyard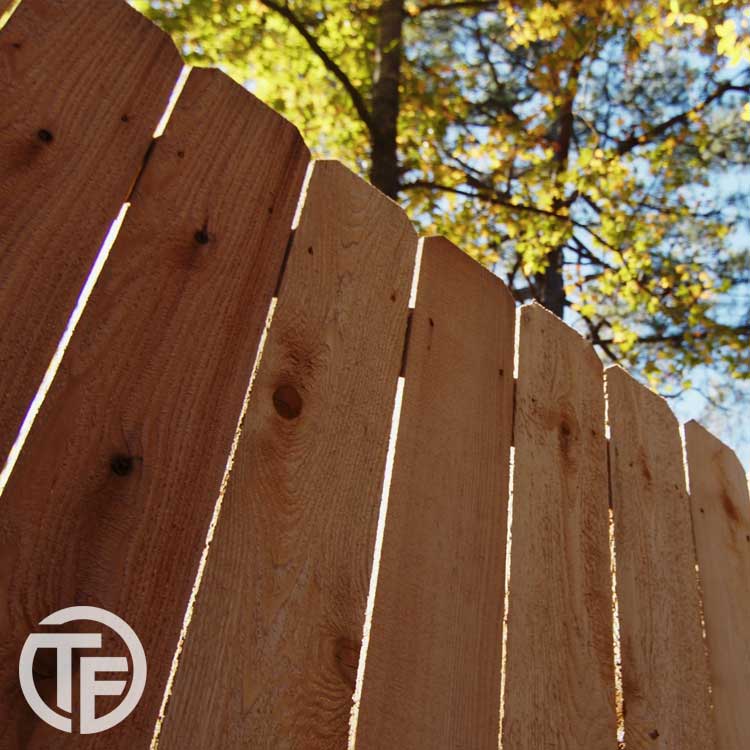 Warning: The contents of this blog might ignite a serious case of "yard envy" in your neighborhood! We're taking summer backyard transformations to a whole new level with the power of fences.

Picture this – sizzling barbeques, water-gun battles with the kids, chilling on a hammock with iced lemonade, and everything closed in by a spectacular fence as unique as Texas itself. Get ready as we reveal "10 Cool Summer Fence Ideas to Transform Your Backyard". Grab your sun hat and slide on over; this guide is packed with thrilling fence trends hotter than Texas summer! Are you ready to make your backyard the heart and soul of summer? Let's get diggin'!
At Texas Fence, we understand the importance of having an inviting, functional, and visually appealing backyard. Some cool summer fence ideas you may consider include installing a pergola fence, adding colorful outdoor lighting, incorporating living walls or vertical gardens into your fencing, and using natural materials such as bamboo or cedar. These ideas can add personality and charm to your backyard while also providing privacy and security. Contact us today to discuss how we can help bring your vision to life.
Different Types of Summer Fences
Choosing the right fence for your backyard can be a challenging task, especially during the summer season. Fortunately, there are plenty of options that can transform any outdoor space into a relaxing oasis. Among the most popular types of summer fences are wood fences, wrought iron fences, and stone walls.

If you're looking for a classic look, wood fences are a great option. Wood is known for its natural beauty, which adds warmth and character to any outdoor setting. Plus, wood fences provide privacy and security, making them practical as well as aesthetically pleasing.

Wrought iron fences are another popular type of summer fence ideas. They offer an elegant look that matches any home's architecture and landscaping. Additionally, they require minimal maintenance over their lifetime when compared to wood fences. Wrought iron fences are an excellent choice if you're looking for durability and low upkeep.

Stone walls are becoming increasingly popular due to their robustness and timeless appearance. However, many assume that stone walls are more costly than other types of fences. While it's true that some types of natural stone are expensive, choosing less expensive options like limestone or flagstone can make it affordable but still give your yard the luxury appearance that every green space deserves.

Much like how a frame showcases artwork, different types of summer fences act as spectacular frames to draw attention to your yard's best features while providing decoration in their own right.

When it comes to choosing a fence for your backyard, there are many different options that can transform the outdoor space into a relaxing oasis. Wood fences offer a classic and natural look that provides both privacy and security, making them practical as well as visually appealing. Meanwhile, wrought iron fences offer elegant, low-maintenance durability, while stone walls provide a timeless appearance at an affordable price point. Ultimately, choosing the right fence is about finding one that showcases the best features of your yard while also adding to its overall aesthetic appeal.
Wood Fences
Wooden fences have been around since time immemorial. They offer a timeless look that works well with traditional as well as modern homes. With countless finishes to choose from such as classic cedar or stained varieties like redwood, wooden fences can be customized to fit any backyard.

A typical wood fence lasts anywhere from 10 to 15 years on average which is relatively long for such an affordable and elementary structure. To maximize their lifespan, it's critical to maintain them by sealing or staining them regularly.

Another advantage of wood fences is their affordability. Cedar is one of the most popular options and offers natural decay resistance. It's robust, lightweight, and affordable when compared to other wood types.

One potential downside of wood fences is that they are susceptible to pests like termites. However, if you opt for cedarwood, it has natural oils that repel pests and mildew which make them a great option for those who want a low maintenance fence.

Wood fences are like a blank canvas – they can be transformed in limitless ways. By adding flower boxes, painting them with bright colors or even incorporating lighting fixtures, you can inject your personality into your outdoor living space.

Overall, there are many options available when it comes to choosing a summer fence. Wooden fences offer durability, natural beauty as well as cost-effective solutions for homeowners looking to upgrade their backyard spaces this summer season.
Wrought Iron Fences
When it comes to revamping your backyard space, choosing the right type of fence can make a considerable difference. Wrought iron fences and stone walls are some of the most popular choices for many homeowners looking to transform their outdoor living environment. Both options provide unique benefits that add beauty and elegance to any home.
Stone Walls
If you want a fence that is both sturdy and stylish, then wrought iron fencing may just be what you need. These fences are made from tough, durable materials that make them resistant to damage and wear. They also offer an elegant look that enhances the aesthetics of any backyard.

One great benefit of these fences is their ability to blend seamlessly with any landscaping style or design scheme. Whether you prefer modern or classic looks, wrought iron fences can fit right in with your personal taste. You can choose from various styles ranging from ornate to simple designs and get a look that matches your style preferences.

Another plus point of wrought iron fencing is its longevity. These fences are built to last, making them an excellent investment compared to other types of fences. With proper maintenance like regular cleaning and painting, wrought iron fences can remain functional and beautiful for decades.

However, some people may worry about the cost of installing and maintaining wrought iron fencing, which can be higher than other options like wood or vinyl. Additionally, while these fences are durable against most elements, they may require repair after harsh weather conditions like storms or hail.

Think of a wrought iron fence as an investment in your backyard that will increase your property's value and visual appeal in the long run.

Natural Fence Options
If you want a fence that is both functional and attractive, then stone walls might just be what you need. These fences are made from natural materials and add a timeless look to your backyard space.

Stone walls come in various shapes and sizes, and there's no limit to how creative you can get with them. Your imagination is the only thing stopping you when it comes to designing a stone wall.

One significant advantage of stone walls is their durability. Since they're made from natural materials, they can last for decades without requiring repair or maintenance. In addition, unlike wood fences that can rot or metal fences that can rust over time, stone fences will withstand most weather conditions regardless of rainfall or heat.

However, some homeowners may worry about the cost of installation since they require skilled labor during installation. The process can be complex as it involves heavy lifting, precise cutting, and fitting of rocks to create a seamless fit and sturdy fence. Additionally, planting shrubs and other plants along the fence requires careful planning to prevent root interference.

A stone wall fence is like a sturdy fortress around your backyard that provides privacy while still being visually appealing.
Shrubbery and Vines
When it comes to creating a summer fence for your backyard, natural fencing options are a great option if you're looking to add some greenery and beauty to your home. By incorporating natural elements into your fence, you can create an inviting atmosphere that's perfect for enjoying the warm summer months.

One great natural fencing option is bamboo. Bamboo is a fast-growing plant that can quickly provide privacy and shade to your yard. Not only is bamboo a sustainable material, but it also requires very little maintenance once it's established. Plus, bamboo can be a stylish addition to any backyard space.

Another natural fencing option is willow weaving. Willow weaving involves using living willow branches to create a woven fence or screen. This type of fencing not only looks beautiful, but it's also eco-friendly and provides excellent privacy.

However, one downside of natural fencing options like bamboo or willow weaving is that they may require more maintenance than other materials such as wood or vinyl. These types of fences may need to be pruned regularly to keep them looking neat and tidy.

Think of it like any other garden: while it may require more work to get started, the payoff is well worth it in terms of beauty and sustainability.

Planter Boxes and Flowers
If you're looking for a low-maintenance natural fence option, shrubbery and vines may be the way to go. These plants not only offer privacy but can also add color and texture to your backyard space.

One popular choice for shrubbery is boxwood. Boxwoods are dense evergreen shrubs that can be easily trimmed into hedges or topiaries. They require little water and can even grow in partial shade.

Another option is climbing vines, such as clematis or honeysuckle. These vines can be trained to grow up a trellis or fence, creating a natural screen that offers privacy and beauty. Plus, these plants attract birds and butterflies, adding to the overall ambiance of your backyard space.

However, shrubbery and vines may not be the best choice for every homeowner. In colder climates, some varieties may not survive harsh winters without proper care. Additionally, while low maintenance compared to other natural fencing options, they still require regular pruning to keep them looking their best.

Think of it like caring for a pet: while it doesn't require as much work as a child, there's still some upkeep required to ensure it stays healthy and happy.


Creative Decoration for Summer Fences
Are you looking for a budget-friendly way to spruce up your fence this summer? Look no further than planter boxes and flowers! Adding colorful, vibrant flowers or even small trees in planter boxes along the length of your fence can transform your backyard into a thing of beauty. Not only do they add visual appeal, but they also provide privacy and help create a natural atmosphere.

One great example of using planter boxes is to mount them on the fence itself. You can install brackets to hold the planters securely on top of the fence, which saves space while not harming the wood or metal used to create your fence. Some popular flower choices include petunias, pansies, or succulents. If you're interested in adding a new level of elegance, try planting climbers such as morning glories.

Another great reason to incorporate planter boxes is that they're incredibly versatile! Planter boxes come in every shape and size imaginable, allowing you to create whatever look you desire. Whether it's a classic wooden box or an industrial-style metal one, you'll find that there are countless different materials available, and this wide selection means that there's something for everyone!

In addition to being beautiful and diverse, planter boxes and flowers remind us of sustainability. The environment benefits when people have more plants around their homes, especially if there are native species there too. That's why these additions contribute not only to curb appeal but also to preserving our natural world.
Adding Color and Light
Creative decoration for summer fences encompasses so much beyond simply hanging up a couple of solar lights or paint colors. If done right, it can add character and style to your property while keeping your backyard functional. The best part is that decorating your fence is completely customizable! You can choose themes ranging from whimsical to sophisticated, so there's something for every occasion.

One exciting idea is to showcase a collection of vintage garden tools. This could double as a way to get them out of the shed or attic and displayed outside, adding an element of nostalgia to the scene. Old tools like wheelbarrows and rakes hung on the wall add charm while also being practical.

Another way to decorate your fence is by incorporating fun birdhouses or feeders. While some may argue that bird feeders can be more hassle than they're worth, others love how they attract wildlife, bring nature into their backyard, and create a sense of peace for people watching from afar. To avoid any messes or pests, keep the feeder clean and make sure it's at sufficient distance away from structures.

A final idea is to use outdoor hanging decor such as lanterns, wind chimes, or even a seasonal flag! These accouterments add another level of expression and vividness to your outdoor area. Let's say you've chosen lanterns made of paper; they'll cast striking shadows against the fence during warm summer evenings. Conversely, if you decide on metal decorations, the sun will catch them in just the right way as sunlight pours into the yard, adding an extra pop of sparkle and pizzazz.

The summer promises endless opportunities for us to enrich our gardens and landscapes with imaginative fencing designs. From planter boxes filled with lush flowers and plants to the cleverest decoration ideas which reflect our creative prowess there are many ways we can transform our plain ol' fences into artistic masterpieces. Make this summer one that you won't forget – let Texas Fence help you plan your dream backyard today.