Wood Fence Installation in Houston – Get a Free Estimate Today!
Are you searching for the perfect way to secure your property and add a touch of rustic elegance? Look no further because our expert team at Texas Fence is here to bring your dream wooden fence to life! Homeowners all across Houston are choosing wood fences for their classic yet durable nature, but what sets us apart from our competitors is our top-notch installation process that guarantees strength and longevity. Don't miss out on the opportunity to transform your outdoor space – request a free estimate today and experience the Texas Fence difference!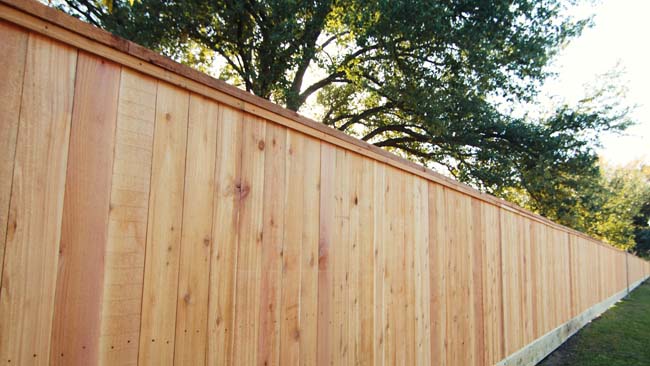 The Benefits of Wood Fences in Houston
If you're looking for a classic, traditional, and timeless look for your home's exterior, wood fences are a great option. A well-maintained wood fence can last for years and add value to your property. But that's not all. There are many other benefits of choosing wood fences in Houston.

For instance, wood fences offer homeowners ultimate customization options compared to any other fencing material available. Homeowners love the freedom of choice when it comes to selecting the style, color, and finish of their wood fence that can match the style of their homes.

Another benefit of wood fences is that they provide an added layer of privacy while enhancing your home's aesthetics. If you're worried about noise pollution and want a quieter home environment, a wooden fence can help with that too!

Of course, every material has its drawbacks. And wood fences are no exception. Wood needs regular maintenance like staining or sealing to keep it looking its best, which can be costly over time.

Despite this issue, there are plenty of reasons why homeowners choose wood fencing over any other type of fencing material. One such reason is that they are long-lasting.
Long Lasting Materials
One thing many homeowners don't consider when installing fences is the durability and lifespan of different materials used in construction. Wood fences have been used for centuries because they have proven to outlast most other materials.

It can be helpful to think of your fence as an investment rather than just an expense. With proper installation and maintenance by professional contractors, a wooden fence can last decades and save you money on repairs and replacements in the long run.

In fact, some historic properties still have their original wooden fences from more than a century ago due to the quality and longevity of the wood used.

Some people think that wood fences may not be as durable as other materials like vinyl or aluminum. However, with advances in manufacturing processes and treatments, modern wood fences can withstand heat, moisture, pests, and other environmental factors.

Additionally, if your fence does experience any damage or decay over time, it's usually easy to remove only the affected parts and replace them without having to replace the whole fence.

So, when you're considering fencing options for your property's safety, privacy, and aesthetics, don't forget to consider the benefits of a well-maintained wooden fence and the longevity it offers.
Low Maintenance Options
One of the primary benefits of wood fencing in Houston is that there are low maintenance options available. While traditional wood fences require regular staining, sealing, and painting to maintain their integrity, there is an alternative option available: pressure-treated wood.

Pressure treated wood is infused with preservatives that help protect it from insect damage and decay, reducing the need for regular maintenance. This type of wood can last up to 20 years without any additional treatment. However, it is important to note that not all types of pressure treated wood are the same. Some may be more resistant than others and therefore last longer.

Another low maintenance option for wooden fences is composite materials. Composite wood fences are made of recycled plastic and wood fibers that have been combined to create a durable, low maintenance product that looks like real wood. Composite fences are resistant to fading, warping, and cracking due to weather changes. They also do not require regular sealing or staining as continuously required by traditional wood fences.

Ultimately, the cost-effectiveness of your fence will depend on how well you maintain it. A low-maintenance fence installation today can save money in the long run and provide a fence that lasts much longer too.


Choosing the Right Style for Your Property
When choosing a style for your wood fence in Houston, there are many options available. The most popular option for homeowners is privacy fencing. Privacy fences provide seclusion and create boundaries between you and your neighbors. For those considering a wooden privacy fence, treated pine is a great choice because it is relatively inexpensive and can be easily stained to match any landscaping or home design.

If you're looking for something more decorative for your property while still maintaining some level of privacy, consider shadowbox fencing. Shadowbox fencing consists of alternating panels that provide partial privacy without blocking the view entirely. This type of fence is aesthetically pleasing and can be painted or stained to match your home's exterior.

In addition, ranch-style or split-rail fencing are also excellent choices for a more traditional look. These types of fences are often used in rural areas but can look great in any setting. They are also an excellent option for homeowners who want to keep their yard open while still establishing boundaries.

As you consider the right style for your property, it's important to also consider any homeowner association rules in your area, as well as city ordinances surrounding fence height and placement.


Privacy and Decorative Fencing Options
When it comes to choosing a wood fence for your property, there are two primary categories of fencing options: privacy and decorative. Privacy fences primarily serve the purpose of providing seclusion from the outside world and creating a safe space for families and pets. These fences are typically taller and provide complete coverage, leaving little to no room for outsiders to peek in.

Decorative fences, on the other hand, offer aesthetic appeal without necessarily being utilized as a full-time security measure. This type of fence typically sports intricate designs and patterns that can spruce up your backyard or front yard.

If privacy is your priority, consider installing a board-on-board style fence. This design features overlapping boards that conceal any spaces between them, effectively letting you have all the benefits of seclusion without making your property feel isolated. Lattice-top fences are another option that adds elegance to a yard while allowing air and sunlight in.

In contrast, using picket fencing with pointed tops can add an elegant touch to your outdoor space while not obliterating the public view. In addition, scalloped-style fencing sports tops that mimic rolling hills or ocean waves and offers an excellent decorative element to your property.

Imagine enjoying your morning coffee on the porch without anyone able to see you thanks to a beautiful board-on-board privacy fence. Or how about welcoming guests into your home with an aesthetically pleasing scalloped fence?

Luckily, Texas Fence offers plenty of different wood fence styles so that homeowners can find something they love while also increasing their home's curb appeal and adding value to their property.


Wood Fence Installation Process
Installing any kind of fence from scratch requires some planning and preparation. However, when you hire a professional contractor to do the job, it's much easier than carrying out a DIY project. Whether you are installing a privacy fence or a decorative fence, the process will be roughly the same.

First, your property will need to be surveyed to ensure that all the zoning laws and deed restrictions are met. At this point, homeowners make any necessary preparations such as trimming trees or bushes around where the wood fence will go up.

Then, your contractor will clear the site and start digging holes for the posts. The holes must be dug in line with local building codes and regulations. After the post holes have been dug and checked for correctness, they will then set in cement.

Once the posts are installed, crossbeams need to be placed on top of them using screws. Next, wood panels or boards are installed on top of these crossbeams one at a time. Finally, gates are added if desired.

To finish the job, your contractor will check for any imperfections that need correction before touching up nails and cleaning up any extra wood debris.

Installing a new wood fence ought not to be looked upon as an arduous process. With Texas Fence providing skilled contractors along with their 20 years of experience in the industry, customers can sit back knowing they'll receive exceptional care throughout this entire operation.

When installing a fence, it is important to plan and prepare properly. Hiring a professional contractor can make the process much easier and ensure that all zoning laws and building regulations are followed. Texas Fence, with their experience in the industry, can provide skilled contractors who can install wood fences with exceptional care. It's time to get started on receiving a quote for their services.
Professional Houston Contractors
Now that we've covered everything about wood fencing installation from starting with choosing your preferred style to understanding the construction process itself, we should talk about getting an estimate for what this service costs.

Texas Fence makes is it easy to obtain a free estimate of how much your wood fence installation will cost by following three simple steps:

Step One: Visit texasfence.com and click "Request Free Estimate" located within one of our pages.

Step Two: Fill out all relevant information such as your full name, email, phone number and home address in one of our online forms.

Step Three: One of our professionals will reach out for further details about the location and type of fence that you require. Afterwards, we'll provide you with a written estimate – free of charge!

Minor factors can sway these costs, such as the products chosen, fence height or length, and other complications like terrain – but we will always communicate any cost discrepancies throughout any project.

Now that we've covered the entire process from selecting styles to obtaining a quote – it's time to reach out to Texas Fence!
Obtaining a Free Estimate
When hiring a wood fence installation company in Houston, it's essential to choose professionals capable of delivering high-quality work. Professional contractors have years of experience working with different fence materials, which translates into expertise in handling all your needs, from design to installation and maintenance.

Moreover, when you hire professional contractors in Houston, you can rest assured that they will use premium quality materials for your fence installation. They understand which type of wood is most suitable for your property, and they can recommend the best fencing options based on your budget, needs, and preferences.

Professional contractors are also equipped with the latest tools and equipment needed to deliver efficient and timely installation services. From post-hole diggers and nail guns to skid steers and concrete mixers, professional fence installers have all the necessary tools in their arsenal to complete your project with ease.

In fact, Texas Fence Company has over twenty years of experience installing custom fences across Houston. They have a team of skilled professionals who work with top-notch materials such as cedar, redwood, cypress, and pressure-treated pine. Texas Fence Company is AFA , Aggie 100, Best pick 2017 rated company and has been consistently rated as one of the top fencing companies in Houston.
How to Request an Estimate Online
Obtaining a free estimate before starting a wood fence installation project is crucial for accurate budgeting while avoiding any surprises later. When looking for estimates for your wood fence installation in Houston, there are several factors you must consider.

Firstly, ensure that the company offers free estimates for your project. Some companies will require an upfront fee before providing an assessment or might charge by the hour. However, Texas Fence Company offers complementary site evaluations without any upfront fees required.

Additionally, make sure that the estimate process includes essential communication with the company. It's vital to have a clear understanding of the fencing options available, how long the project will take, and what materials you need. This is why working with a professional fence company in Houston that values communication will make the entire process smoother for both parties.

Texas Fence Company offers potential clients information about factors contributing to overall costs, such as fence height, stain or paint application, number of gates needed, and more on their website.

Obtaining a free estimate for your wood fence installation project is like taking your car to the mechanic- You wouldn't want any extra surprises at the end of the job. That is why getting an estimate from an experienced fencing company like Texas Fence Company would help you avoid financial headaches in the long run.
Factors Affecting the Cost of Installation
At Texas Fence, we understand that your time is valuable. That's why we've made it simple and easy for you to request a free estimate online. Our online form enables you to provide us with all the necessary details about your property and fencing needs.

Simply visit our website and navigate to the "Free Estimate" page where you will need to fill out some basic information about your project including your name, address, email, phone number, and any additional comments or questions you may have.

Once you submit the form, a member of our team will reach out to you promptly to schedule a consultation at your convenience. During this consultation, we will discuss your options and work with you to find the perfect solution for your property.

For example, if you are looking for a privacy wood fence installation in Houston for your backyard, we will provide you with several custom design options that meet your specific needs and preferences. Our team prides itself on providing exceptional customer service and working closely with clients throughout every stage of the process.

So why wait? Submitting an online estimate request is quick and easy – so take advantage of our free estimate service today!